Monday Night Football: Betting Raiders vs. Ravens (Week 1 2021)
Odds, predictions, trends, and news for the 2021 Week 1 Monday Night Football matchup between the Oakland Raiders and Baltimore Ravens.
September 13, 2021 - by Jason Lisk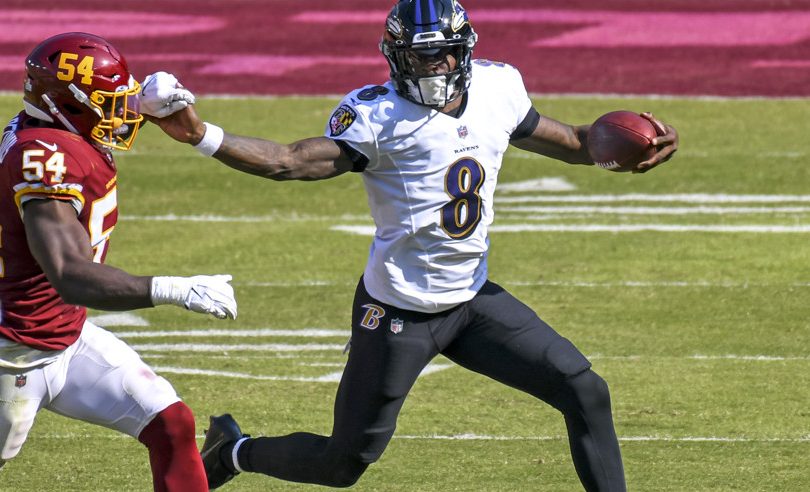 Lamar Jackson and the Ravens are looking to continue road dominance (Photo by Mark Goldman/Icon Sportswire)
Baltimore and Las Vegas face off in the first Monday Night Football matchup of 2021. The Ravens come into the game with some question marks at the running back position, while the Raiders come in needing to make a leap in Jon Gruden's fourth year with the team.
The MNF Betting Details
Point Spread: Baltimore (-3.5) at Las Vegas
Over/Under: 50 points
Moneyline: Baltimore -178; Las Vegas +158
BetIQ Win Odds: Baltimore 60%
Notable Monday Night Football News
Baltimore Backs
The Baltimore Ravens lost three different running backs to injury in the last two weeks: J.K. Dobbins, Gus Edwards, and Justice Hill. Ty'Son Williams, an undrafted 2020 free agent who played at BYU and was on the practice squad last year, inherits the starting role for Week 1. The team also signed veterans Latavius Murray (cut by New Orleans) and Le'Veon Bell (free agent) recently to address the running back issues. For a team that has relied heavily on the running game in recent years, question marks abound.
Viva Las Vegas
The Raiders moved to Las Vegas for the 2020 season, but the Monday Night Football game will be the first home game in Las Vegas that will be attended by fans.
Darren Waller Vs. His Old Team
Raiders star TE Darren Waller will be playing the season opener on his 29th birthday, against his former team. Waller had only 103 receiving yards in his career as a Raven, but has posted back-to-back years with more than 1,100 receiving yards. That includes having over 100 yards receiving in four of his last five games played.
That hot streak will be put to the test against the Ravens, who haven't allowed a tight end to have 100 yards receiving in a game in the last five years. (The last TE to do it was Gary Barnidge of Cleveland in 2015.)
Ravens & Raiders Betting Trends
Road Ravens: Baltimore is 14-4 SU and 12-6 ATS on the road the last two seasons
The Autumn Wind is an Over: Las Vegas went 12-3-1 on the Over against the Over/Under line in 2020. Their opponents scored at least 26 points in each of the team's last seven games a year ago.
MNF Player Stats Projections
Here are our player projections for the Week 1 Monday Night Football game.
Quarterback Projections
| Quarterback | Team | Pass Comp | Pass Att | Passing Yards | Pass TDs | Pass INT | Rush Yards | Rush TDs |
| --- | --- | --- | --- | --- | --- | --- | --- | --- |
| Lamar Jackson | BAL | 18.7 | 28.4 | 218 | 1.6 | 0.6 | 60.2 | 0.4 |
| Derek Carr | LV | 22.8 | 34.4 | 265 | 1.6 | 0.6 | 6.5 | 0.1 |
Running Back Projections
| Player | Team | Rush Att | Rush Yards | Rush TDs | Receptions | Rec Yards | Rec TDs |
| --- | --- | --- | --- | --- | --- | --- | --- |
| Ty'Son Williams | BAL | 13.6 | 64.1 | 0.6 | 1.6 | 12.9 | 0.1 |
| Latavius Murray | BAL | 6.9 | 29.2 | 0.3 | 1.3 | 10.2 | 0.1 |
| Josh Jacobs | LV | 13.7 | 55.6 | 0.6 | 1.4 | 11.2 | 0.0 |
| Kenyan Drake | LV | 8.8 | 37.7 | 0.2 | 3.3 | 28.4 | 0.1 |
Wide Receiver and Tight End Projections
| Player | Team | Receptions | Rec Yards | Rec TDs |
| --- | --- | --- | --- | --- |
| Mark Andrews | BAL | 4.8 | 58.5 | 0.5 |
| Marquise Brown | BAL | 4.2 | 56.1 | 0.4 |
| Sammy Watkins | BAL | 3.8 | 43.9 | 0.3 |
| Darren Waller | LV | 6.4 | 79.1 | 0.5 |
| Henry Ruggs | LV | 3.5 | 52.0 | 0.4 |
| Bryan Edwards | LV | 3.6 | 51.6 | 0.3 |
Caesars Sportsbook MNF Betting Boosts
If you sign up as a new Caesars customer in one of the following states, you are eligible for the following Monday Night Football boosts on wagers of $100 or less:
TySon Williams to Score a Touchdown on Sep. 13 BOOSTED to +150
Lamar Jackson & Derek Carr Each Over 1.5 Pass TDs on Sep. 13 BOOSTED to +275
Darren Waller, Mark Andrews & Marquise Brown Each Over 59.5 Receiving Yards on Sep. 13 BOOSTED to +650
Josh Jacobs to Score a Touchdown & Over 49.5 Rush Yards in Raiders Win on Sep. 13 BOOSTED to +700
Henry Ruggs First Touchdown Scorer on Sep. 13 BOOSTED to +1600
Josh Jacobs, Darren Waller & Sammy Watkins All to Score a Touchdown on Sep. 13 BOOSTED to +2500
Here are the signup links to take advantage:
Colorado | Indiana | Iowa | Michigan | New Jersey | Tennessee | Virginia | West Virginia