BetIQ Daily: NFL Playoffs Futures Picks, Including Super Bowl and Conference Winners
Friday's BetIQ picks include some NFL playoff futures on the Super Bowl winner, conference winners, and when there is value on Green Bay.
January 14, 2022 - by Jason Lisk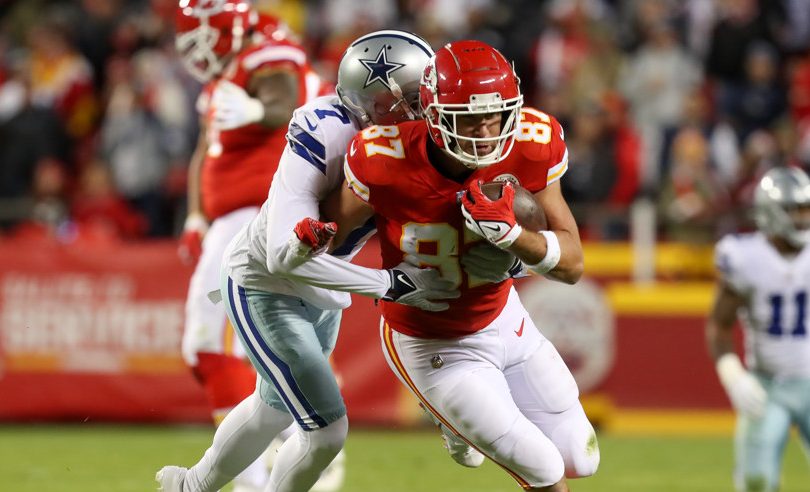 The Chiefs show up in our playoff futures picks (Scott Winters/Icon Sportswire)
We have already provided a detailed look at the AFC teams and NFC teams. Today, we are going to look at some NFL playoffs futures picks.
We will have our Wild Card Round picks on each of the next three days, for the games on that day.
1) Kansas City +500 to Win Super Bowl
Our projections give Kansas City a 19 percent chance of winning the Super Bowl.
That gives KC value down to +425, and the best current odds as of Friday at publication time are +500 at BetMGM.
In our similar team analysis in the AFC breakdown, 25 percent of the Chiefs' most comparable playoff teams won the Super Bowl, including two of the top three.
2) Tampa Bay +350 to Win NFC
The defending champions are coming at value to both reach and win the Super Bowl.
There might be some value on Tampa because of a misplaced public belief in repeat winners being poor value since they rarely happen.
Tampa Bay does have a notable injury (WR Chris Godwin) and a tougher path than Kansas City to the title as a No. 2 seed, but that's reflected in the odds.
We see value on Tampa Bay to about +330, and the +350 line is currently available at several sportsbooks, including DraftKings.
3) Green Bay +190 to Lose in Divisional Round 
This futures wager on the specific round in which a team will lose is offered at DraftKings Sportsbook.
Green Bay is an extremely popular pick and isn't offering much value since it's the betting favorite to win the Super Bowl.
Based on the various odds offered to lose in specific rounds, the biggest value is in the divisional round, where we project Green Bay to have a 37 percent chance of losing.
The Packers' potential divisional-round opponents are San Francisco (32%), LA Rams (31%), Philadelphia (21%), and Arizona (16%).
If the Eagles win, next week's moneyline will be worse than this number, but it otherwise could provide value on the NFC West teams.
Green Bay went 3-0 against the three NFC West playoff teams, but won by a combined 13 points, with two games coming down to the final play.
4) Tennessee +330 to Win AFC
Tennessee is the No. 1 seed but is only the third-largest favorite from the AFC to reach the Super Bowl (behind Buffalo and Kansas City).
We project Tennessee with a 25 percent chance of reaching the Super Bowl, which provides value to a futures line down to +300.
The Titans are not a dominant top seed, but the current odds are low enough that there is value on them being the AFC representative.
Our similar playoff teams analysis also showed 25 percent of teams like Tennessee reached the Super Bowl.
The current +330 line is currently at several sportsbooks, including DraftKings.
On Playoff Futures and the Longer Shots
All of the futures picks listed above are between +190 and +500. So individually, none are more likely to happen than not.
These are inherently riskier picks compared to say, picking an individual spread or over/under. But they are all futures picks where we see potential value over time. Most futures picks do not provide value, and often have poor value.
Some things to keep in mind:
The futures markets can have some pretty big margins for the sportsbooks.
There is some natural attraction for the public to play really long shots.
When they hit, these are the types of picks that get promoted by sportsbooks and casinos as marketing material to show what is possible.
We project most of the lower seeds to have less than a 5 percent chance of winning the Super Bowl, but with the exception of the Eagles and Steelers (who we give less than a 1 percent chance), the payout odds are all lower than +2000.
In many cases, our projected advancement odds for the longer shots are at least half of the current payout odds.
Top Pick Performance Trends
Our algorithmic models use over a decade of data to predict every game across five sports.
As of post time, here are some highlights of prediction performance from our primary Ensemble Forecast model this season, for playable-rated picks (52.5% confidence or better) against game-day betting lines:
NFL point spread picks: 48-36-2 (57%, +7.6 units)
College football over/under picks: 180-146-3 (55%, +17.7 units)
NBA spread picks: 14-10 (58%, +2.7 units)
NBA moneyline picks: 79-67 (+10.4 units)