NFL Playoffs Betting Picks and Predictions: Conference Championship Round (2023)
We analyze and make a pick on every game in the 2023 NFL Playoffs, and also provide some playoff futures picks where we see betting value.
January 25, 2023 - by Jason Lisk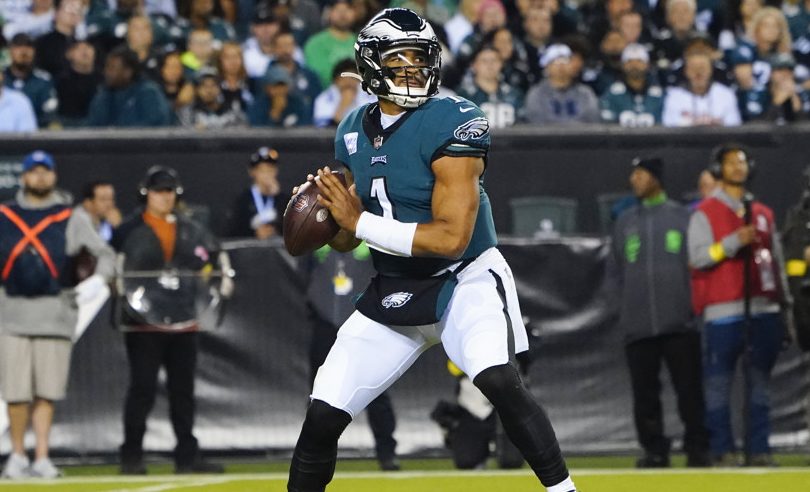 Jalen Hurts and the Eagles try to continue their dominance (Gregory Fisher/Icon Sportswire)
This article consolidates our betting related analysis, picks, and predictions for each game of the 2023 NFL Playoffs, from the Wild Card Round through the Super Bowl. We'll also weigh in on some futures picks relating to playoff outcomes.
To avoid confusion, note that our NFL Staff Picks and model predictions for spread, over/under, and moneyline value will not have playable-rated picks for every playoff game.
Since many of our subscribers will still actively bet the NFL playoffs, though, this article conveys some of our general thoughts on each game, along with at least one "lean" level pick from the TR staff (even if our models are neutral).
NFL Playoff Picks Menu
Conference Championship Round Picks and Predictions
Divisional Round Picks and Predictions
Wild Card Picks and Predictions
Playoff Futures Picks
---
2023 Conference Championship Round Picks and Predictions
Here are the picks and analysis for the NFC and AFC conference championship games:
Philadelphia Eagles vs. San Francisco 49ers
When: Sunday, January 29th at 3:00 p.m. ET
Consensus Odds: Philadelphia -2.5, Over/Under 46.0