Super Bowl Picks 2023: Game Winner, Against The Spread Predictions & Updates
Picks and betting predictions (including against the spread and over/under) for Super Bowl LVII, Kansas City Chiefs vs. Philadelphia Eagles.
February 10, 2023 - by Jason Lisk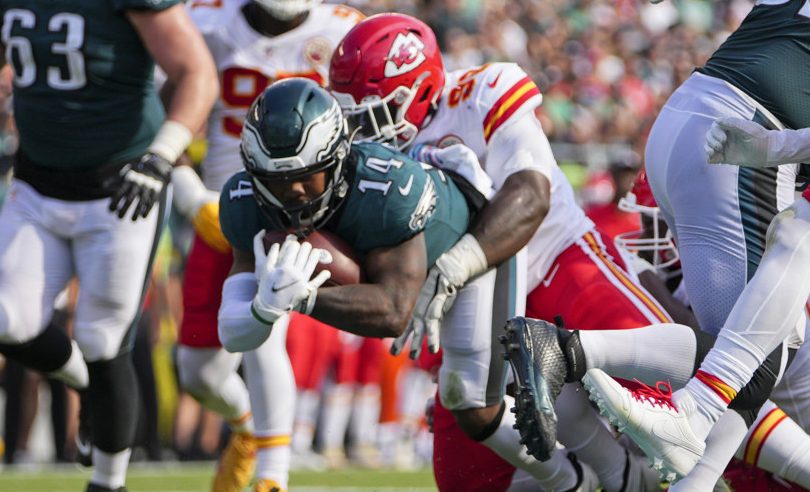 The Chiefs and Eagles face off in Super Bowl LVII (Andy Lewis/Icon Sportswire)
This article consolidates our Super Bowl picks, predictions, and betting-related analysis for Super Bowl LVII between the Kansas City Chiefs and Philadelphia Eagles.
(If you want to see a more selective list of our favorite betting picks for the Super Bowl and other sports, view our Staff Picks page.)
Super Bowl 57 will take place at State Farm Stadium in Glendale, Arizona on Sunday, February 12, 2023. Kickoff time is 6:30pm ET.
Super Bowl LVII Picks and Analysis Menu
Our game picks for Super Bowl 57 were posted on Wednesday, February 8:
In addition, we will update this article with breaking news, betting-related updates, and other types of picks for Super Bowl XVII on a daily or near-daily basis through game day:
---
Best Sportsbook Offers for the Big Game
This time of year, sportsbooks tend to roll out the red carpet to attract new customers for online sports betting, which is now available and legal in many states.
If you're ready to sign up for your first online sports betting account for the big game (or you want to add an additional account to take advantage of bonus offers), here are the best deals from the biggest U.S. sportsbooks:
---
Our Approach To Super Bowl Picks
The Super Bowl is a unique game when it comes to betting. As our subscribers know, our algorithmic models make predictions for every NFL matchup. However, using historical data to unearth an undiscovered (and more importantly, a meaningful) handicapping angle on one of the world's most scrutinized sporting events is a tall order.
As a result, our models often view the most popular Super Bowl betting lines as generally accurate (or "efficient" in betting terms), and don't lean very strongly either way. That's not a bad thing. If you think the oddsmakers have got the Super Bowl completely wrong, most of the time, you're the one that's missing something—not them.
But this is the Super Bowl, and you probably want some action on it. So in this post we'll go beyond our model predictions to lay out our logic for popular full-game picks, including an against the spread pick and an over/under pick (i.e. the total points scored by both teams).
In addition, the amazing variety of bets and odds offered by bookmakers on Super Bowl LVII also opens up opportunities to find expected value on more esoteric pick types that our models don't directly cover. That includes player props, derivative bets, and other Super Bowl prop bets.
We'll be doing a lot of hands-on research into the Chiefs vs. Eagles matchup, and we'll point out some of these lesser-known bets that we like best.
---
Game Winner and Moneyline Pick For Super Bowl 57
As of this writing on Wednesday, February 8, our models don't show a particularly strong lean on Super Bowl LVII. Our overall ensemble forecast is showing 53% odds for Philadelphia to win the game (as a slight favorite in the betting markets), and no significant lean in terms of value on the moneyline.
Let's talk about the Eagles, though, because while the Chiefs are a fairly known commodity as a multi-year contender with the same coach, quarterback, and several other key players, the Eagles are the team that emerged this season. Are they a historically great team, and we just don't realize it yet? Or have they been propped up by playing teams with bad offenses and mediocre quarterbacks?
Philadelphia is 16-1 in games that QB Jalen Hurts starts. They also had 77 sacks this year. They've rarely been challenged in the second half of games when Hurts has played.
So let's go over some arguments for and against the Eagles in the Super Bowl.
Pick arguments for the Eagles
Early line movement went in Philadelphia's favor right after the conference championship games, making them the favorite, and line has since settled in at Philadelphia -1.5 at most sportsbooks.
The Eagles have been a dominant team recently with Hurts playing. Two of their three losses on the season were without him playing.
The Chiefs' rush defense (4.5 yards per carry allowed) against the Eagles' prolific rush offense (153.9 yards per game, a league-leading 10.0 rush first downs a game) could be a decisive factor.
Philadelphia ranks in the top 3 in both offensive and defensive yards, is balanced on offense, and has an elite pass defense in terms of sacks, yards allowed per pass attempt, and turnovers.
The Chiefs' injury concerns at wide receiver could impact their performance against a top defense.
Pick arguments against the Eagles / for the Chiefs
The Eagles could be overvalued because of matchup effects, as they generally feasted on weak offenses and QBs who tended to take sacks. Despite racking up a very high number of total sacks, Philadelphia only averaged 2.4 sacks in games against QBs with a sack rate under 6.0% this year.
Philadelphia hasn't yet played a QB like Mahomes this season. The best QBs they faced were Aaron Rodgers, Jared Goff, Kirk Cousins, Trevor Lawrence and Dak Prescott. They gave up an average of 27.2 points in those games.
Hurts may still not be 100% as a passer. The Eagles won big in the conference championship and he didn't have to pass much, but he only averaged a 61% completion percentage and 6.00 yards per attempt. He has only thrown two touchdown passes in three games since his shoulder injury.
The Eagles have rarely passed late in games and Hurts doesn't have a history of success when he has to pass to come from behind. Kansas City is the more likely team to be able to come from behind if the early part of the game doesn't go their way.
While much has been made of the Eagles' sacks (78 in 19 games), Kansas City has 62 sacks in 19 games, the highest rate of any Super Bowl team besides the Eagles since the 2015 Broncos (66 sacks in 19 games). Kansas City has also faced more quality pocket passers this season, and will be facing a QB in Hurts who has a tendency to take more sacks.
Our Pick: Kansas City to win Super Bowl LVII (+109)
It feels like the variance of potential game outcomes could be high this year, but we'll play on the Chiefs offering a bit of value as an underdog, and higher confidence in Mahomes' ability to manufacture a winning drive if the game is close late.
Philadelphia hasn't really faced an opponent like Kansas City, a team with the capability to quickly push up the score. Hurts missed what was likely the Eagles' hardest contest during the regular season, at Dallas. In addition, the blowout of San Francisco comes with an asterisk, as the 49ers were down to a fourth-string quarterback and another QB with a torn UCL after one drive.
Kansas City has already played against several opponents of this caliber like the Bills and Bengals, and opponents in other recent playoff games. While it's by no means a high-confidence pick, picking Kansas City avoids putting too much faith in uncertainty.
---
Against The Spread Pick For Super Bowl 57
Our models also don't show a particularly strong lean against the spread, with estimated cover odds of 50.9% for Philadelphia -1.5. In other words, it's a coin flip.
We laid out a detailed argument for and against Philadelphia in the previous section on our Game Winner and Moneyline pick, so read that out if you haven't yet. Since the point spread is so short, the analysis regarding the spread and outright winner are roughly the same.
Our Pick: Kansas City +1.5 (and teaser if possible)
As with our game winner pick, given the potential variance here, we'll take the points in the Super Bowl, especially with the more proven passing attack, the quarterback accustomed to passing at high volume, and the quarterback who avoids sacks better.
The Eagles' rush defense has also been a vulnerability, and one that could be a bigger factor against a multi-dimensional elite passing offense.
One potential angle (if you want something besides the current line, which isn't that much different from a pick'em), is to tease the spread along with our Over/Under pick below. The +1.5 is a good teaser line since you can push it to +7.5, picking up the two key numbers of 3 and 7.
A Note for Eagles Fans…
On the other hand, if you disagree with our analysis and prefer the Eagles, exploring some alternate line bets is also a decent idea—especially if you can get a plus-money payout on a slightly bigger line for Philadelphia.
Lots of books offer alternate spreads, and if you push the Eagles up slightly to above a field goal favorite, you can get bigger payout odds if they cover the alternate number. As we noted, Philadelphia hasn't yet played a team like Kansas City, and the potential outcomes of this game could be highly variable as a result.
It's certainly possible that Philadelphia is a juggernaut that simply hasn't had the chance to prove itself at full strength against elite competition, and will dominate in this game just as they have against weaker opponents.
---
Over/Under Pick For Super Bowl 57
Though this shouldn't come as a huge surprise (see the "Our Approach To Super Bowl Picks" section above), our models also don't show much of a lean on the total, with 50.3% odds for Over 51.0. Another coin flip.
The total opened at 50.0, spent some time at 49.5, then rose and settled in at 51.0 over the last few days, as of Wednesday February 8.
Just as with our analysis in the Game Winner section, we'll lay out some pros and cons for both side of the total.
Arguments for the Under
Both teams have highly rated pass defenses and rank highly in sacks, which are factors that could hold down scoring and impact red zone conversion rates.
Of the last 7 Super Bowls with a total of 50 or higher, 6 went Under (and in the seventh game, the Over needed overtime to hit).
Given the relative defensive weakness of both teams, rush defense, we could see both teams grind out balanced attacks and have sustained possessions, reducing plays and scoring some, even if the offenses move the ball effectively.
Kansas City hasn't given up more than 24 points in six straight games, while the Eagles have allowed that many only once in their last eight games (against Dallas, without Hurts playing).
Arguments for the Over
The line has moved up to 51.0 as potential injury news has mostly been positive on the Chiefs' receivers and Mahomes' ankle.
Both teams rank in the NFL's top 3 in points scored and offensive yards, and are capable of generating quick scores.
Both pass defenses rank highly, but the Over is 8-4 in Super Bowls when the two pass defenses averaged 5.5 or fewer net yards per pass allowed.
Pass defenses that can generate sacks can also force turnovers, which can impact the total with defensive scores or short fields.
Philadelphia's pass defense has been dominant, but allowed nearly 10 yards per pass attempt to both the Packers and Cowboys, and allowed the Lions to score 35 points in the season opener. The only above-average passing attack with a good veteran QB they shut down was Kirk Cousins and Minnesota.
Our Pick: Over 51.0 (and teaser with the spread) 
We'll give a slight lean to the Over in Super Bowl LVII, on the angle that the Eagles' pass defense has not faced a team like Kansas City and these two teams can push each other to score points in the second half.
We'll make a calculated guess that both teams will likely be aggressive in play calling near the edge of scoring range and in the red zone as well.
Teasing the total to an Over of 45.0 along with the Chiefs' spread is also a consideration here. While "key betting numbers" aren't as important for totals as they are for point spreads, this teaser shift does pick up some of the more notable numbers from our review of common scores.
51 total points is the most common, and this teaser moves that outcome from a push to a win. 47 is the fourth-most common score, and 50 is the eight-most common. In games with a similar total over the last five years (between 48 and 54 points) nearly a third of all those games ended with a total between 46 and 51 points.
---
Chiefs vs. Eagles Updates & Betting Analysis
Monday, January 30th
Eagles Move From Underdog to Super Bowl Favorite After Early Betting Action
Jeff Benson, the Sportsbook Operations Manager at Circa Sportsbook in Las Vegas, tweeted out last night that the book opened Kansas City as the favorite, but that didn't last long.
Super Bowl opener at @CircaSports was Kansas City Chiefs -2.5 with a total of 51. The market disagreed and said our opener was garbage. It will be interesting to see where this number goes in the next two weeks! #SuperBowlLVII pic.twitter.com/61TEytQQf0

— Jeffrey Benson (@JeffreyBenson12) January 30, 2023
The market immediately bet that opening number (Kansas City -2.5) to Philadelphia -2.5 within a span of 21 minutes, and the Eagles were getting points at Circa for less than five minutes from the time the line originally opened.
Our consensus market data right now shows the Eagles as a 2-point favorite at about three-quarters of the sports books we monitor, and those that have an alternate line are juiced more heavily to one side (FanDuel has it at Eagles -1.5, for example, but with -118 juice on the Eagles).
---
Tuesday, January 31st
Early Super Bowl MVP Odds and Other Props Available
You can now find Super Bowl MVP proposition bets at several sportsbooks, and it should be no surprise that the two quarterbacks lead the way in the odds.
Today BetMGM and DraftKings both have Philadelphia QB Jalen Hurts at +110 odds (i.e. bet $100 to win $110) while FanDuel is at +125. For Chiefs QB Patrick Mahomes, the prices range from +125 to +135 at those same books.
No other player has a price shorter than +1000 right now, so you stand to make a big return if you bet on a non-QB to win Super Bowl MVP and you're right.
The books have also started releasing Super Bowl player and game props earlier than in past seasons. DraftKings already has an extensive offering of yardage and touchdown props as well as some other types of props, such as "How many players will attempt a pass or get a rushing attempt?"
BetMGM also has passing, rushing, and receiving props up for Super Bowl LVII.
We'll be breaking down our projections for the game later this week.
---
Wednesday, February 1st
Trying to make sense of Jalen Hurts' and the Eagles' projections
We are currently working away on our team and player projections for the Super Bowl, and the Eagles present an interesting challenge.
Here's what we can say about Philadelphia:
They have largely dominated their schedule (and rarely trailed in the second half) with Jalen Hurts as the starting QB
They haven't really played any teams like the Chiefs, or quarterbacks like Mahomes
So there's a lot of uncertainty about how dominant this Eagles team is
In some ways, this Eagles team is similar to some dominant college football teams who rolled through their conference with their run-heavy approach and then go face a completely unique opponent who is much better than anything they have seen. Will the dominance continue, or will they have to play differently?
Look at Philadelphia's results and how the games have played out. The two opponents that most approximate the Chiefs in overall quality, Dallas (2x) and San Francisco, have huge asterisks by each game. San Francisco lost their (third) starting QB to a UCL injury on the first possession. The Eagles played the Cowboys once when Dak Prescott was out, and the next time, with Jalen Hurts out for Philadelphia.
Other than that, the best opponent was … Minnesota in Week 2? Playing at Jacksonville? The best QB Philadelphia has played a full game against, with a healthy Hurts, may have been Jared Goff all the way back in Week 1.
Jalen Hurts has only thrown 27 passes all season when trailing or tied in the second half of a game. In contrast, Patrick Mahomes has thrown 148 pass attempts in the same scenario, and the Chiefs have played several teams that would qualify as better overall and at QB than any team the Eagles have faced this year.
So it feels like there is a lot of variance at play here, in terms of both the Eagles' performance, and the projection for Hurts. Most of Hurts' stats have been accumulated in bigger mismatches and in games playing the entire second half with a bigger lead.
But if the Super Bowl plays out as a closer game in the second half, how is that likely to effect Hurts' stat line?
---
Thursday, February 2nd
Check Out Other Super Bowl Trend Articles
Our player projections for Super Bowl LVII will drop later today. In the meantime, you can check out some of our other Super Bowl trend articles. That includes the following:
---
Thursday, February 2nd
Player Projections for Super Bowl 57
We have our Super Bowl player projections now posted in this article.
We have passing, rushing, and receiving stat projections for the Chiefs and Eagles players. In addition, we have touchdown pass, interception, and rushing/receiving touchdown distributions and odds for a variety of players.
By early next week, we will post some of our favorite player props available for the Super Bowl.
---
Thursday, February 2nd
Andy Reid Updates on Player Injuries
The Chiefs had several notable injuries coming out of the AFC Championship Game. Today, Andy Reid spoke to the media about some of the players.
Here are some key notes:
It doesn't sound good for WR Mecole Hardman, who returned for the first time but re-aggravated the pelvic injury in the AFC Champ Game;
WR Juju Smith-Schuster is dealing with some knee swelling, and we'll probably have to wait until next week to see where he is trending, though Reid is optimistic he will play;
WR Kadarius Toney is trending the right direction, and took part in the walkthrough, though not fully practicing yet;
Reid said of QB Patrick Mahomes: "He actually did well, a little stiff right after the game, but he's doing well now."
RB Clyde Edwards-Helaire has been on IR since before Thanksgiving, but is eligible to return and will try to practice to see if he can be activated.
---
Tuesday, February 7th
Player Props Article Now Live
We have our 10 favorite Super Bowl props article now published, so check it out.
It includes props on the following:
Jalen Hurts rushing
QB interceptions
Isiah Pacheco vs. Miles Sanders
First drive prop
First TD Scorer prop
Number of rushers in Super Bowl
and more.
---
Thursday, February 9th
Avoid the 37-34 Hysteria
The two-week period between the championship games and Super Bowl give us plenty of time to fill, and very little actual news. The spread and totals have only moved slightly since the first day of action, and no major surprises have emerged yet.
But the level of gambler action on a "leaked" box score of the Super Bowl has caused quite the stir.
The Super Bowl script was leaked😲 pic.twitter.com/DI8JlKQtkj

— MLFootball (@_MLFootball) February 5, 2023
According to the Action Network, prop bets on a final score of Eagles 37, Chiefs 34 have now moved to the most popular bet on the game at BetMGM. The odds have moved from +25000 to +8000 because of the heavy action on that single score. (Hey, if you are a sports book, why wouldn't you move it if people are going to bet it anyways?)
That "screen grab" by the way, looks like a Pro Football Reference page. It's 3-D Chess if the NFL actually has scripted this game and then put it only a PFR page. Pro Football Reference does actually have a Super Bowl page set up for the matchup, but alas, it doesn't have the game score. But why not let a photo-shopper influence the betting markets to extreme degrees, huh?
And remember, if you really do believe in this conspiracy theory, there are a whole host of other props that would fall into that script. And then, if the score really is 24-13 Chiefs at the half after a 10-0 first quarter, you can explore those markets.
But we'll go out on a limb and say the game won't play out the way of this "script."
---
Friday, February 10th
Injury Report Update
As the teams continue to practice ahead of the Super Bowl, the injury situation is coming into focus.
For Kansas City, we already knew that Mecole Hardman was out following a re-injury in the AFC Championship Game. The other receivers who left that game have all been full participants in practice, so Juju Smith-Schuster and Kadarius Toney should both be active.
The one notable addition is starting cornerback L'Jarius Sneed. He had missed most of the AFC Championship Game after a concussion early in the game, but was limited in practice with a knee issue. He is, though, still expected to play.
For the Eagles, no notable players are expected to miss the game, though OT Lane Johnson was limited in practice and getting additional rest because of a groin injury. He is still expected to play through it and have surgery after the season.
With no major surprise injury news coming out of practice so far, the line and total are holding fairly steady, with the Eagles still favored by 1.5 points and the total at 50.5.