One Pick to Avoid in Each Round of a Fantasy Draft
August 20, 2020 - by Jason Lisk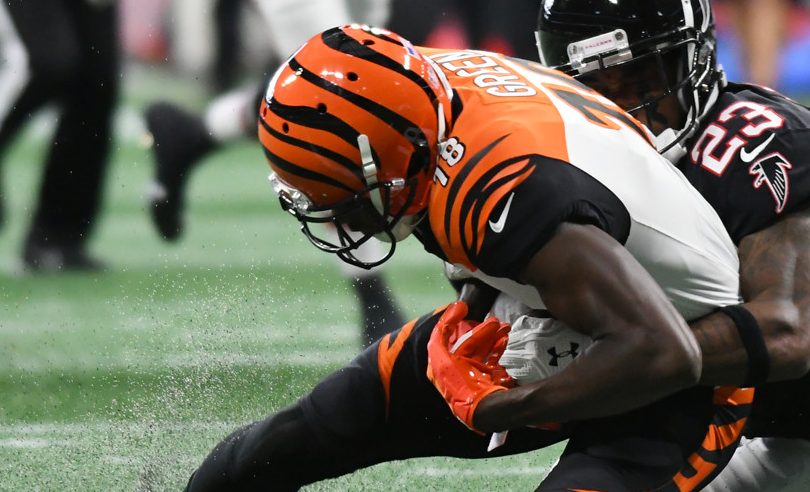 A.J. Green has been inside the Top 30 in WR scoring once in the last four years, and is now 32 years old (Photo by Jeffrey Vest/Icon Sportswire)
Yesterday, we highlighted some of our value picks in each round. We'll close our "12 Days of Fantasy Football" series by listing the players we are avoiding. Every player can be a value at the right price. But these guys are currently at a price we aren't willing to pay.
Round 1: WR DeAndre Hopkins
This one comes down to risk mitigation. DeAndre Hopkins is one of the best receivers in the game. We don't know, though, exactly how he will blend with his new team. His yards and TDs dipped last year, and if he just put up last year's numbers he would be a massive disappointment at his current price. He's a risk worth taking later in the second round, but that seems unlikely with others willing to draft him in the first round.
Round 2: RB Josh Jacobs
Josh Jacobs is being drafted in the late first and early second round. We've got him rated below some other backs that are going in the second round. The primary concern here is whether he sees a dramatic uptick in his receiving usage, which is what is necessary to justify his current optimistic price.
Round 3: WR Odell Beckham, Jr.
Odell Beckham has been a fantasy disappointment for three years in a row. Last year, he played a full 16 games, so his 31st-place finish in points at WR could not even be blamed on injuries. His former LSU teammate, Jarvis Landry, posted better receiving stats than Beckham last year in Cleveland, and is going much later in drafts. Maybe Beckham can have a bounce back year, but the asking price (usually early in the 3rd round) is still just a little too high to assume it is going to happen.
Round 4: TE Mark Andrews and Zach Ertz
We are cheating here by listing both tight ends going in Round 4. It's not that we think these guys are not good options at tight end. In fact, they are our 3rd and 4th tight ends in projected points. We just have them as being valued at around the 5th round, a full round after where they are going. This is because of depth and upside at the tight end position in 2020, and the players still available at RB and WR at this point in the draft.
Round 5: RB David Johnson
David Johnson was the top fantasy running back in 2016. Things haven't been quite as good since then. Johnson was hurt early the next year. He was drafted highly in 2018, but was a mild disappointment as the Cardinals collapsed to the worst record in the NFL. Last year, optimism over a fresh start with Kliff Kingsbury as the head coach still had Johnson being drafted in the Top 10 at RB. He was benched by mid-season, and traded this offseason. Again, optimism over a fresh start in Houston has Johnson going fairly high in fantasy.
The recent history of running backs changing teams provides plenty of cautionary tales. Johnson will turn 29 this season, and is coming off a non-productive year. You shouldn't rule out 29-year-old running backs, but almost all of the successful ones from the past were very productive the year before, and playing for the same team. There are too many question marks to trust Johnson here.
Round 6: WR A.J. Green
Continuing our theme that you shouldn't build your fantasy team with guys who were top performers four years earlier, there's A.J. Green. The last time he had over 1,200 yards or double-digit touchdowns was back in 2015. He missed all of last year with a foot injury, and seven games the year before that. There's a point where taking a chance on an A.J. Green bounce-back season at age 31 makes sense, but it's not in Round 6 when wide receivers with far fewer red flags, and proven recent production, are available.
Round 7: TE Rob Gronkowski
Maybe Rob Gronkowski still has something left at age 31, after coming out of retirement to re-unite with Tom Brady in Tampa Bay. But there are a lot of risk factors that make this one for us to avoid at the current price. Sure, some other great tight ends continued to put up elite numbers at age 31. What those tight ends didn't do, though, was decline at age 29 and then retire at age 30.
Even setting aside questions about Gronkowski's health and whether he can still put up elite production, there's the question of opportunity. The Bucs threw for over 5,100 yards last year, but they will likely not be repeating that. To justify his cost, Gronkowski is going to have to get a bigger share of the offense, relative to what Godwin and Evans have done recently. He can still perhaps be a red zone weapon, and might get off to a good start with fresh legs (and back) and a familiarity with Brady. But we aren't willing to pay the current asking price in a deep tight end year.
Round 8: QB Aaron Rodgers
We should have titled this piece, "Avoid star players from five years ago that have been frequently overvalued since." Rodgers has still put up decent fantasy numbers thanks to touchdown totals in recent years, though he has often underperformed his draft position. The team has shown a willingness to become more balanced, and drafted his eventual replacement in Jordan Love this spring. Rodgers turns 37 years old, and it's still not clear if he has a 2nd quality receiver behind Davante Adams. Add in that the QB position is deep when you get to this stage, and it doesn't make much sense to spring for him too early. He is a matchup/platoon starter at QB, as he showed by throwing 4+ pass TDs against the Raiders and Giants last year. But he isn't a weekly consistent high scorer anymore.
Round 9: San Francisco DEF/ST
Don't be the first person to take a defense, and don't do it in the 9th round. Defenses are more inconsistent than offenses and there are opportunities to play matchups with defenses. San Francisco will likely be one of the Top 5 defenses in 2020, but that doesn't make them a good value here.
Round 10: WR Mike Williams
Mike Williams had over 1,000 yards last year (but only two touchdowns). The offense, though, is going to be vastly different. That came as a result of an unsustainable 20.4 yards per catch, and on a team that had almost 600 pass attempts. We project the Chargers with 488 pass attempts this year due to the combination of a running quarterback in Tyrod Taylor, and a rookie in Justin Herbert. Having the 3a or 3b option on a team that already has Keenan Allen, Austin Ekeler, and Hunter Henry, on a low-volume passing attack is not what you want in this round. Negative team volume regression and yards per catch regression make Williams very high risk.
Round 11: K Justin Tucker
Don't be the first person to take a kicker, and don't do it in the 11th round. Kickers are also inconsistent and you don't need to reach early. Justin Tucker is really good, and a pretty safe option to be in the Top 5 of kickers this year. But you can find a whole bunch of other options later in the draft who can get within 20 points of Tucker. In Round 11, there are still plenty of Top 50 running backs and receivers left, some excellent tight end sleeper options, and plenty of good quarterbacks.
Round 12: WR Sammy Watkins
Sammy Watkins has played in the Chiefs' offense with Patrick Mahomes for the last two seasons. During that time, he has finished 63rd and 52nd in fantasy points. Add in that Mecole Hardman is moving into his second year, the team still has Tyreek Hill and Travis Kelce as the top options, and just drafted a receiving back in Clyde Edwards-Helaire. You can get guys with a clearer path to a good season than Watkins.
All Articles in the 12 Days of Fantasy Football Series
12 Old Fantasy Football Faces in New Places
11 Depth Chart Battles to Watch
10 Backup Running Backs that Provide Upside
9 Wide Receiver Sleepers to Target
8 Running Back Sleepers to Target
5 Tight End Sleepers to Target
4 Quarterback Sleepers to Target
2 Value Picks for Each Round of a Fantasy Draft