Fantasy Football IQ #4: New York Giants WR Trio, 2021 First Round Targets, and Zero WR
August 21, 2020 - by Jason Lisk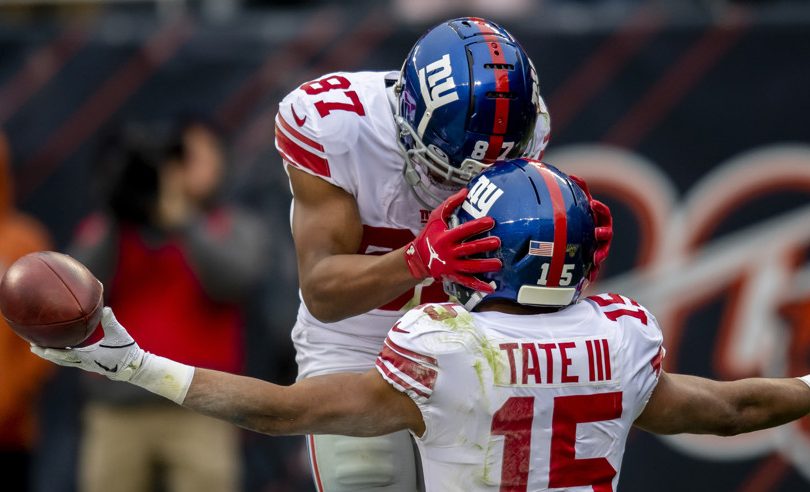 The New York Giants are a sleeper to put up good passing numbers, but none of the WRs are being drafted in the Top 40 (Photo by Patrick Gorski/Icon Sportswire)
Fantasy Football IQ is our series showcasing fantasy football analysis from around the web that we find interesting and insightful.
High IQ Fantasy Football Articles: August 21st, 2020 Edition
Everyone is busy dissecting a handful of passes from training camp, so here's some fantasy football research to get you away from that:
4for4: Value from the NY Giants' trio of wide receivers
Establish The Run: Targeting players who could potentially be 2021 fantasy first round picks
FantasyPros: Targets when using a Zero WR Strategy
Footballguys: Best Ball Survivor Auction Contest
Note: Many of the sites publishing the highest quality fantasy football research are, unsurprisingly, premium sites. So you may need to purchase a subscription to read the full articles mentioned below. We'll tell you why we think the analysis is valuable, and you can make that decision for yourself. 
NY Giants Wide Receiver Value (4for4)
Jennifer Eakins of 4for4.com wrote about the value available with the trio of New York Giants receivers this year:
In order to take that important sophomore leap, Jones has been training to emphasize ball security and put on close to 10 pounds with the intent of a stronger grip. We should see improvement across the board for Jones when he officially takes the reigns as the Giants franchise quarterback.

Lucky for him, Jones has a talented arsenal of weapons at his disposal in 2020, most of whom are being undervalued in fantasy drafts. His trio of wideouts all have double-digit round ADPs and could sneak into WR3 territory for the price of a WR4/5. Consider the ADP for each of them:

Darius Slayton (ADP:111, POS ADP: WR41)
Sterling Shepard (ADP:126, POS ADP: WR48)
Golden Tate (ADP:147, POS ADP WR53)
Our Take: Our rankings have all three Giants' wide receivers above their current ADP, so we agree that the uncertainty of who will emerge in New York is leading to potential value late in a draft. The Giants are projected for nearly 3,950 passing yards in our team projection, which is built based on what similar teams (with second-year QB starters) have done. New York profiles as a team that could be in a lot of shootouts and has some offensive weapons. They are a sleeper team to finish in the Top 5 in passing yards in 2020.
Here's an illustration of just how much value you might find with the Giants. The five other teams we project closest to the Giants in overall passing yards are the Cardinals, Packers, Texans, Vikings, and Browns. Four of those five teams have a wide receiver going in the Top 10 at the position. Seven wide receivers from those five teams are going before any Giants receiver is being drafted.
Giants Receivers are a Threesome You Don't Want to Sleep On
Potential 2021 Fantasy First Rounders to Target (Establish the Run)
Adam Levitan wrote about trying to project and envision which players could emerge as top draft picks by next year's fantasy drafts:
Who will be the consensus first-round fantasy picks in 2021? If we knew the answer, we'd be rich. We'd simply draft as many of them as we could in our season-long leagues, bet the overs on all their props, trade for them in Dynasty and roster them every week in DFS until prices adjusted. Of course, we don't know the answer.

But there are thoughtful ways to examine this question. Essentially we are looking for players who have realistic paths to hitting the top of their range this season. A median outcome from a player will not yield much profit on their current ADP.
Our Take: We won't reveal exactly who Levitan lists as the most likely targets here. But 6 of the 9 players he highlighted last year are at least in the conversation to be taken in the first round of drafts this year, and all six are at least second round picks. (Those players are Derrick Henry, Miles Sanders, Aaron Jones, Austin Ekeler, Chris Godwin, and Josh Jacobs).
It would be great to have a crystal ball to see who was being touted next year, but trying to project range of outcomes can lead you to identify players with upside to be great values if things break the right way.
Looking Ahead: Players With Paths to the 2021 Fantasy First Round
Zero Wide Receiver Strategy Targets (FantasyPros)
Paul Ghiglieri of FantasyPros wrote about specific targets to go after if you go with a "Zero WR" strategy, that is, you avoid taking WR in the first 3-4 rounds of a draft while targeting other positions.
If you feel as though you can't wait beyond Round 5 or 6 to start building your WR core, then Robert Woods and Terry McLaurin make for ideal targets. Woods, especially, is being grossly undervalued heading into 2020.

Woods finished inside the top 10 last year in targets (114) and receptions (90), and the offense should be better.

…

Across the country in Washington, Terry McLaurin enters his second year ready to produce borderline WR1 numbers at a WR3 price. According to Matt Harmon's Reception Perception data, McLaurin produced the 34th best success rate against man coverage among all receivers since 2014. Note that he did that as a rookie.
Our Take: If you are going to wait on receivers, there are plenty of value targets later in the draft. Ghiglieri highlights several more after Woods and McLaurin, and we feel pretty good that several of them appear on our value targets list and our WR Sleeper list.
Zero WR Strategy: Early, Mid, and Late-Round Targets
$35,000 Subscriber Contest (Footballguys)
We want to highlight, not an article, but a contest available for those who subscribe to Footballguys, and it has been a must-play for several years. Any subscriber is automatically eligible to enter their contest, a Best Ball, Survivor-Style event. You get $250 of salary cap space, to fill out a roster pretty much how you would like, with rosters ranging from 18 to 30 players. The prices are set, and make for difficult decisions. Half the fun is constantly debating and switching out players trying to fit values into the lineup.
Early on, you just need to avoid bad scores, but as the season progresses, bye weeks kick in, and injuries happen, you need to get some higher scores to advance. The final 25o entries that survive past Week 11 then play for highest score over a three-week span to win the top prizes.
$35,000 Subscriber Contest link
Past Versions of Fantasy Football IQ
Fantasy Football IQ #1: Zero RB Strategy, QB Bust Rates, Austin Ekeler's Value
Fantasy Football IQ #2: Winning Your League in the First Round, T.Y. Hilton's Value, and Game Theory
Fantasy Football IQ (#3): Tight End Targets, a Full NFL Fantasy Primer, and Auction Advice