Week 4 Fantasy Football Waiver Wire Pickups
September 30, 2020 - by Jason Lisk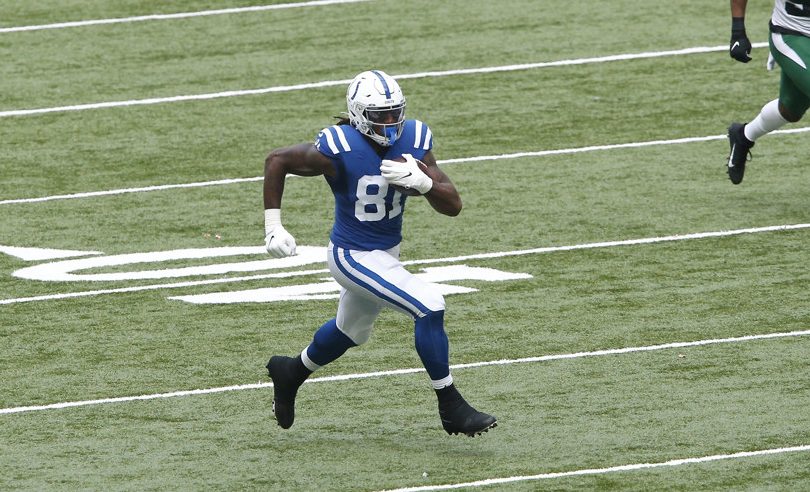 Mo Alie-Cox has been highly productive so far, and leads the Colts in receiving yards through three weeks (Photo by Jeffrey Brown/Icon Sportswire)
Last week produced some rookie breakouts at wide receiver, and three of them make our waiver wire list this week. The only notable running back injury was a controversial one: Chris Carson getting his leg twisted in what looked like a dirty play by Trysten Hill of the Dallas Cowboys. Meanwhile, a tight end continues to emerge in Indy.
Here is a rundown of our top waiver wire recommendations heading to Week 4. You can read below for why we have each player on our list.
RB Carlos Hyde, Seattle Seahawks
WR Justin Jefferson, Minnesota Vikings
WR Tee Higgins, Cincinnati Bengals
TE Mo Alie-Cox, Indianapolis Colts
RB Rex Burkhead, New England Patriots
WR Preston Williams, Miami Dolphins
WR Brandon Aiyuk, San Francisco 49ers
RB Jeff Wilson, San Francisco 49ers
WR Tre'Quan Smith, New Orleans Saints
RB Brian Hill, Atlanta Falcons
Others to consider: QB Ryan Fitzpatrick, Miami (should have high volume passing game against Seattle); WR Zach Pascal, Indianapolis (Michael Pittman also now out for several weeks); QB Nick Foles, Chicago (should be starter rest of year if healthy); RB Chase Edmonds, Arizona (Panthers allow over 10 catches and 70 yards a game to running backs).
Carlos Hyde
Chris Carson suffered a knee sprain late in the Week 3 game when Cowboys' DL Trysten Hill twisted his leg after a tackle. Veteran Carlos Hyde should get the start, and be a lower end RB2 starting option with red zone touchdown upside in the Seattle offense, facing a pretty good matchup in Miami. Carson could miss a week or two, so Hyde is a short-term option to provide a running back start for the next couple of weeks.
Justin Jefferson
Jefferson might not be available in all leagues, but in some redrafts, he was sent to the waiver wire after a slow start, and immediately rebounded in Week 3. He had his breakout game with 175 yards and a touchdown. The lesson here: don't give up on a first-round wide receiver, especially in this crazy year with limited camp time (and Jefferson also was on the Covid list in the preseason). If he is available in your league, he should at least be a flex consideration going forward. The Vikings' defense is a shell of what it has been in recent seasons and Minnesota is going to have to score.
Tee Higgins
Tee Higgins scored two touchdowns in Week 3, and saw his role expand with John Ross a healthy inactive. Higgins finished with 9 targets, second only to Tyler Boyd. With A.J. Green averaging barely over 4 yards per target (116 yards on 28 targets and 13 receptions) so far this year, the opportunity is now there for Higgins to emerge as the second-best receiver in this offense.
Mo Alie-Cox
Quick, do you know who the leading receiver for the Colts is? It's tight end Mo Alie-Cox, with 181 yards. Alie-Cox has the opportunity for a breakout year, with rookie Michael Pittman now out along with Parris Campbell. His breakout over the last two weeks is kind of hidden by the Colts being involved in two blowout wins where they only threw 25 passes in each game. He's averaging over 16 yards per target so far, and that kind of production will merit more looks going forward on a team looking for weapons. The Colts' schedule will also get tougher, meaning they will be in closer games that require more pass attempts than what we have seen recently.
Rex Burkhead
Rex Burkhead was last week's entry for "which Patriots' back will have a big fantasy game." Until James White returns to active status, still out with his family after the fatal car crash that killed his father and injured his mother, Burkhead will fill that role in the offense. Burkhead should be a featured part of the game plan again in Kansas City, as the Patriots know they will have to control the ball with the short passing game to stay with the Chiefs.
Preston Williams
Preston Williams has gotten off to a slow start, and it's possible that in some leagues he has ended up on the waiver wire. Sure, he had only two catches last week, but it was a week where the Dolphins jumped to a big lead, led the whole way, and only passed 20 times. How frequently will that happen for Miami? This week should be a high-volume passing week for Miami, going against Seattle. The Seahawks are also dead last in fantasy points allowed to opposing wide receivers so far in 2020. Start him if you got him.
Brandon Aiyuk
Aiyuk worked into the season slowly, but emerged in Week 3. He was targeted a team-high 8 times and had 70 yards receiving, while also adding a rushing touchdown. Once George Kittle (and Deebo Samuel) returns to the offense fully healthy, he will have some of that reduced, but he should be a viable starting option in Week 4 against the Eagles.
Jeff Wilson
Jeff Wilson had a two-touchdown game against the Giants in Week 3. He would be higher on this list if there was more certainty that he was in a true timeshare with Jerick McKinnon. Both touchdowns, and the majority of his touches, came in the fourth quarter when the game was well in hand. Still, he probably earned a bigger role going forward until Raheem Mostert returns.
Tre'Quan Smith
For the second straight week, Smith was second on the team in targets behind only Alvin Kamara, with Michael Thomas still out. He's averaging 9.4 yards per target so far. The only thing he hasn't done is score a touchdown, but he's still available on most waiver wires as a starting option, who could retain a role when Thomas returns if he continues to play well.
Brian Hill
This one is all about Todd Gurley. Hill has been more productive than Gurley on limited touches so far. Gurley only has 3 catches for 3 yards so far this season, on a team that ranks fourth in pass attempts and third in passing yards. After Gurley had 35 carries to 6 for Hill in the first two weeks, that gap narrowed to 14 vs. 9 in Week 3. Hill is worth a prospective add in case he carves out a greater role in the offense.