Player Prop Bets for NFL Week 1
We like the overs on several NFL player props in Week 1, starting with the rookie quarterback and passing game in New England.
September 12, 2021 - by Jason Lisk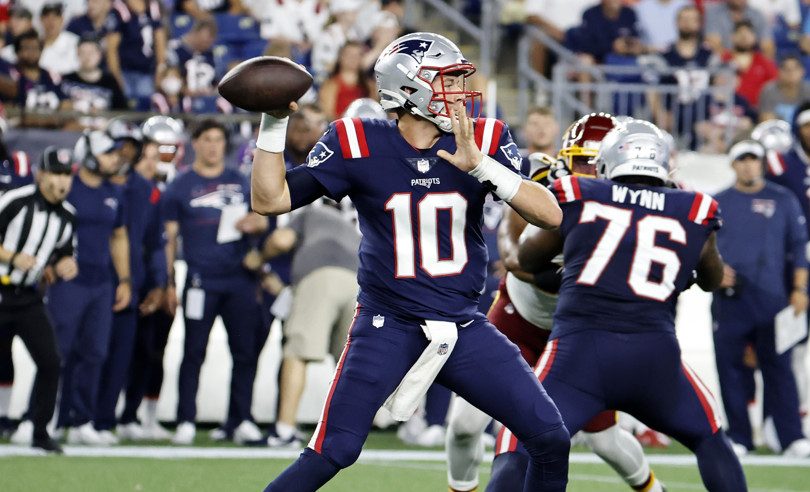 There's a new Mac in town (Photo by Fred Kfoury III/Icon Sportswire)
Throughout the 2021 NFL season, we will identify our favorite player props. Each week, we will use roughly $200 on various prop bets. We'll track those picks and hopefully learn a few things along the way.
The general plan is to use the knowledge that went into the season-long projections for fantasy football as well as player injuries, depth charts, and usage. We might incorporate research into various stat categories and distribution of outcomes as well. But this is for fun, so we'll sprinkle in some entertainment plays, too.
Each week, we'll summarize the previous week and season-to-date, good or bad, and see how we do.
Week 1 Player Props
Early in the season, we will lean heavily into the season player projections and adjust for matchups and specific injury and other factors for the week. The projections should serve as a nice baseline when evaluating player props.
For example, using our projected QB passing yards and adjusting them for projected games/snaps gives an average projected passing yards per game for each QB. Those passing-yard averages compared favorably to the passing-yard prop totals offered.
Our average projected yards per game for the Week 1 starters was only 0.5 passing yards lower than the average of the offered passing-yard over/under totals. Adjusted for the actual Week 1 spread and game point total, the difference dropped to 0.1 passing yards. The projections might be higher or lower on a particular quarterback, but they were collectively well-calibrated.
The Week 1 plan is to start out mostly focusing on more yardage props or multi-event props and less on touchdowns and interceptions. (Though we do sprinkle in one late exception for fun.)
Picks for Week 1 Player Props
Here are the picks we like. We checked a variety of books, but the best lines for the props we are targeting came from either BetMGM or DraftKings this week.
| Player | Team | Sportsbook | Category | O/U | Line | Odds | Bet |
| --- | --- | --- | --- | --- | --- | --- | --- |
| Mac Jones | NE | BetMGM | Passing Yards | OVER | 232.5 | -110 | 22 |
| Mac Jones | NE | BetMGM | Pass Attempts | OVER | 29.5 | -105 | 21 |
| Jonnu Smith | NE | BetMGM | Receptions | OVER | 2.5 | -120 | 14 |
| Jonnu Smith | NE | BetMGM | Receiving Yards | OVER | 27.5 | -115 | 23 |
| Ben Roethlisberger | PIT | BetMGM | Passing Yards | UNDER | 267.5 | -110 | 22 |
| Najee Harris | PIT | DraftKings | Rushing Attempts | OVER | 14.5 | -125 | 25 |
| Brandon Aiyuk | SF | DraftKings | Receiving Yards | OVER | 48.5 | -115 | 23 |
| Brandon Aiyuk | SF | BetMGM | Receptions | OVER | 3.5 | -160 | 16 |
| Aaron Jones | GB | BetMGM | Receiving Yards | OVER | 18.5 | -110 | 11 |
| Jameis Winston | NO | DraftKings | Interceptions | UNDER | 0.5 | +150 | 14 |
Let's quickly cover the rationale behind some of these picks.
Mac Jones and Jonnu Smith
When it comes to the Patriots' passing game, we think the lines are a little low here. These may be influenced by how poorly they threw the ball last season and them now starting a rookie quarterback.
However, New England drafted Jones for a reason. He quickly took over the lead role, and our projections expect the Patriots to return to their pass/run distributions from prior to 2020.
Plenty of coaches would be conservative with a rookie QB, but we do not anticipate that being Bill Belichick's modus operandi. Jones is there to upgrade the Patriots' passing deficiencies, and 29.5 passing attempts is a low barrier.
As long as New England doesn't jump out to a huge early lead, we expect Jones to throw the ball a fair amount. We project him for 587 pass attempts this season and think he'll start airing it out right away. While there is some uncertainty about which of the three wide receivers will emerge out of Nelson Agholor, Jakobi Meyers, and Kendrick Bourne. But our projection on Jonnu Smith was sufficiently high that we are recommending him as the best value of the group, though any are reasonable.
Ben Roethlisberger and Najee Harris
Roethlisberger averaged over 40 passing attempts per game last year, but he wore down late in the season as the Steelers slumped to a 1-4 finish and early playoff loss. They also had the worst rushing attack in the league, which they sought to fix by drafting running back Najee Harris in the first round.
In light of Roethlisberger's age (39), recent drop in yards per passing attempt, and the selection of Harris, we expect Pittsburgh to put an emphasis on more balance.
Our season-long projections have Roethlisberger averaging around 245 passing yards per game. So we'll play on both the passing under and an emphasis of getting Harris carries early.
We don't know how productive Harris will be against the Buffalo Bills, which is why we're leaning on the rushing attempts versus a yardage prop here. But as long as Pittsburgh is in this game, expect a heavy dose of Harris.
Brandon Aiyuk
This one's pretty simple. Our projections are high on Aiyuk, a second-year receiver with breakout pedigree, and this is a favorable matchup.
These numbers are low enough that even if the 49ers jump out to an early lead, Aiyuk can hit them because of his big-play ability.
Aaron Jones
Aaron Jones has averaged 3.2 receptions per game and 27.6 receiving yards over the last two years. Jamaal Williams, who averaged 2.5 receptions per game with the Packers over that span, is now in Detroit.
Second-year back AJ Dillon is now part of the rotation with Jones, but we project Jones to be the receiving back of the duo. In the four games that Williams missed across the 2019 and 2020 seasons, Jones averaged 38.3 receiving yards per game.
This should be a competitive matchup with the Saints. We expect Jones, who we project for 472 receiving yards this year, to be involved early in the passing game.
Jameis Winston
Finally, this one's for fun and for a little sweat.
Jameis Winston will make his first career start for the New Orleans Saints on Sunday against the Packers, and you can get +150 on him not to throw any interceptions.
When we last saw him as a starter, he threw 30 interceptions. But this is a new chance, a new team, and a new coaching staff after he spent a year as a backup in New Orleans.
If he hasn't thrown an interception by the fourth quarter, this one will be a sweat to the end. But hey, let's have a little fun and hope Jameis can silence the turnover doubters for a week.