Three NFL Week 2 Upset Picks To Consider (2022)
Three NFL Week 2 upset picks stand out as potential value plays based on our algorithmic prediction models, data angles, and/or recent news.
September 14, 2022 - by Jason Lisk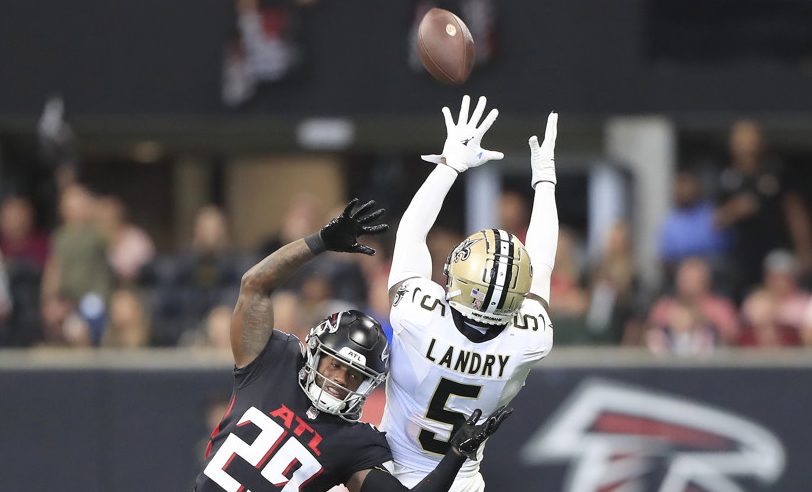 The Saints and Falcons look for upsets in Week 2 (David J. Griffin/Icon Sportswire)
Everybody loves an NFL upset pick, especially when you bet on them and they win. After a perfect 3-0 start to last week, we're back with our Week 2 upset picks to consider.
In this article, we pick three NFL underdogs (as of publication time) against current moneyline odds. Last season, upset picks we highlighted went 22-25-1 straight up for the season, good for +17.0 units of profit if you had flat-bet one unit on each pick. (Betting $10 on every pick last year would have netted you $170 in profit by the end of the regular season.)
Upset Picks Results to Date
Last Week: 3-0, +5.5 units
2022 Season: 3-0, +5.5 units
Keep in mind that we expect to get most of these picks wrong, and we also expect to see big swings in results from week to week, including losing all three picks in some weeks. We cover this concept in more detail below in the Upset Pick Expectations section.
To see our favorite betting picks of each week this football season (including spread, over/under, moneyline, props, and other picks), check out our weekly Staff Betting Picks column. Here are the Week 2 Staff Picks.
Week 2 NFL Upset Picks
New York Jets (at Cleveland)
Point Spread: +6
Moneyline: +215
Our Ensemble Forecast model has the Jets rated as one of its top value plays against both the spread and moneyline in Week 2.
The Jets lost by 15 to the Ravens in Week 1 but outgained them by more than 100 yards. They were ahead of Baltimore in yards even before late fourth-quarter garbage time, so their performance last week was not as bad as the result implies.
Meanwhile, the Browns averaged a pitiful 4.3 yards per pass attempt in the win at Carolina. Browns QB Jacoby Brissett averaged a woeful 5.7 yards per attempt as a replacement starter in Miami last year.
We'll play against the favorite with a bad passing attack that likes to grind things out, and on the team that performed better last week than the score indicates.
New Orleans Saints (vs. Tampa Bay)
Point Spread: +2.5
Moneyline: +125
Our Ensemble Forecast model also has this pick rated as a high-value moneyline play in Week 2.
The Saints are 4-1 against the Buccaneers straight up with Tom Brady at QB. They have held the Bucs to an average of 16.6 points in those games.
Tampa Bay won easily against the Dallas Cowboys in the Sunday opener, but the offense wasn't sharp or as pass-heavy as a year ago with all of the personnel changes.
Bucs WR Chris Godwin is questionable with a hamstring injury, and LT Donovan Smith also missed practice Wednesday. So we'll take a gamble on a team that has matched up well with Tampa Bay in recent years.
Atlanta Falcons (at Los Angeles Rams)
Point Spread: +10.5
Moneyline: +400
We'll close with a long-shot pick, but a shocker doesn't seem out of the question based on how the teams looked last week.
The Los Angeles Rams became only the second defending Super Bowl champ in the last 30 years to gain less than 250 yards in its season opener. QB Matthew Stafford was sacked seven times, and the team averaged less than 3.0 yards per carry. Stafford, who was reported to be dealing with elbow issues this offseason, also seemed to lack trust in throwing to anyone but WR Cooper Kupp.
The Bills entered the season as the Super Bowl favorite, which could help explain away some of those issues. But the Rams were even worse than the final 31-10 score indicated.
Meanwhile, of all the upsets and near-upsets in Week 1, Atlanta's performance might have been the most impressive longer term. While many of last week's upsets boiled down to missed kicks or other screwups, the Falcons arguably outplayed the Saints:
Atlanta finished tied for the fifth-most first downs for any team in Week 1 (26).
The Falcons gained five or more yards (or scored a touchdown) on 69% of their first-down plays.
A red-zone fumble by Marcus Mariota and an aborted snap on a key 3rd-and-1 play in the fourth quarter allowed the Saints to complete the comeback.
It's a very risky assumption, but Atlanta is one big underdog from Week 1 that could be better than expected.
Another X-factor here is whether the Rams' offensive line issues and inability to run the ball continues. Teams that took six or more sacks in Week 1 over the last decade went 4-10 ATS in Week 2.
Finally, what if Atlanta QB Marcus Mariota (with his career average 7.5 yards per attempt, but no starts since 2019) has found an offense that caters to his strengths and revitalizes his career? He wouldn't be the first early-first-round pick to re-emerge as a veteran in a new situation.
Upset Pick Expectations
Whenever you read about upset picks from a betting perspective, it's important to understand what that means. Individually, neither the betting markets nor our models give any of the three teams better than a 50-50 chance to win its game.
If you bet an underdog on the point spread, that isn't such a big deal to you. You're just hoping for the pick to at least keep it close and cover the number.
If you bet an underdog on the moneyline, though, you need them to win the game outright. When that happens, you get an outsized return on your bet. In that context, you should expect to lose more bets than you win.
Depending on the payout odds, you can still turn a profit by winning, say, 30 or 35 out of every 100 underdog moneyline bets. However, you need to manage your bankroll carefully to weather what could be long losing streaks along the way.
Week 2 Betting Picks & Models
If you'd like to find your own trends and angles for NFL betting, check out our custom NFL betting trends tool.
If you'd like to see all of our model-based picks for NFL Week 2 (game winner, point spread, over/under, and moneyline value), you can visit our NFL picks page on TeamRankings.
And if you'd like to see a more curated list of betting picks that caught our attention, with the rationale behind each pick, check out our Staff Betting Picks for NFL Week 2.