Three NFL Week 3 Upset Picks To Consider (2022)
These NFL Week 3 upset picks stand out as moneyline value plays based on our algorithmic prediction models, data angles, and/or recent news.
September 21, 2022 - by Jason Lisk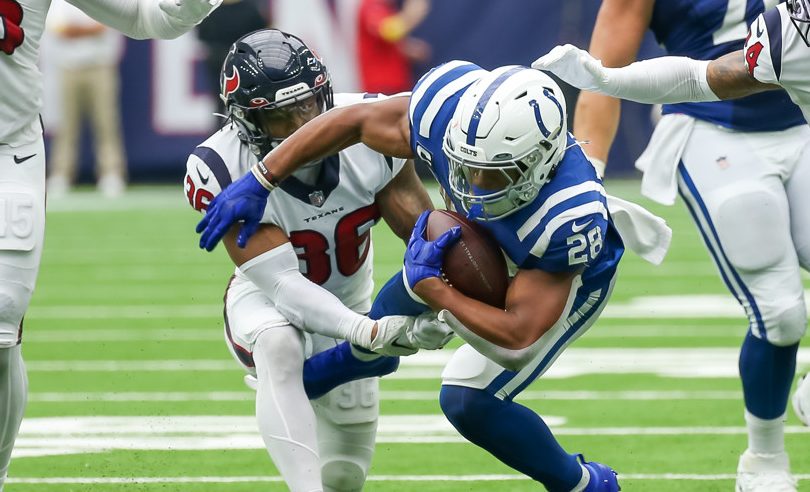 Can the Colts and Texans get their first win of the year in Week 3? (Leslie Plaza Johnson/Icon Sportswire)
Everybody loves an NFL upset pick, especially when you bet on them and they win. We hit on a miracle comeback last week with the J-E-T-S and just missed on a big one after the Falcons took the Rams to the wire.
Now we set our sights on Week 3 upset picks. In this article, we pick three NFL underdogs to win outright and track our performance based on their moneyline odds as of publication time.
Last season, upset picks we highlighted went 22-25-1 straight up, good for +17.0 units of profit if you had flat-bet one unit on each pick. (In other words, betting $10 on every pick last year would have netted you $170 in profit by the end of the regular season.)
Upset Picks Results to Date
Last Week: 1-2, +0.2 units
2022 Season: 4-2, +5.7 units
Keep in mind that these are underdog picks, so we expect to get most of them wrong. We also expect to see big swings in results from week to week, including losing all three picks in some weeks. Read the Upset Pick Expectations section below if any of that sounds confusing.
To see our favorite NFL betting picks each week (which may include point spread, over/under, moneyline, props, and other picks), check out our Staff Betting Picks.
Week 3 NFL Upset Picks
Indianapolis Colts (vs. Kansas City)
Point Spread: +6.5
Moneyline: +228
The public is leaning heavily on the Chiefs in this game, but the line hasn't moved as of post time. It's hard to imagine a matchup sounding better to the public than an undefeated Chiefs team taking on an 0-2 Indianapolis squad coming off a 24-0 drubbing by formerly lowly Jacksonville.
As it turns out, teams that just got shut out can often provide value the next week. Since the start of the 2017 season, teams that were shut out the week before are 19-9-3 against the spread.
The Colts really struggled last week, managing only nine first downs as Matt Ryan threw three interceptions. But without star WR Michael Pittman Jr. and rookie speedster Alec Pierce, their starting wide receivers were a ragtag bunch. Pittman and Pierce might be back this week, so the Colts offense could look more like the one that gained over 500 yards against the Texans in Week 1.
Houston Texans (at Chicago)
Point Spread: +3
Moneyline: +125
Our Ensemble Forecast model has this pick rated as a high-value moneyline play in Week 3.
The Bears are setting football back a century with their old-school offense, as they've managed less than 200 passing yards and 15 total completions so far this season. Chicago also ranks near the bottom of the league so far in run defense after allowing 5.1 yards per carry and giving up a league-worst 379 rushing yards through two games.
That's enough for us to give the nod to slight underdog Houston on the road here. The Texans should be able to run the ball a little better and take some pressure off QB Davis Mills.
Carolina Panthers (vs. New Orleans)
Point Spread: +3
Moneyline: +135
This is another playable Week 3 moneyline pick based on our models. Carolina has lost two close games to start 0-2, but the Panthers rank third in the NFL in net yards per pass attempt allowed.
Saints QB Jameis Winston played in Week 2 with four fractured vertebrae, according to Fox Sports' Jay Glazer. He took six sacks, threw three interceptions, and averaged less than six yards per attempt against Tampa Bay. He especially struggled throwing downfield, going 1-for-7 with two interceptions on passes listed as "deep" in the play-by-play logs.
We'll take the Panthers' pass defense against Winston's potentially compromised passing game while he plays through the back injury.
Upset Pick Expectations
Whenever you read about upset picks from a betting perspective, it's important to understand the implications. Individually, neither the betting markets nor our models give any of these three teams better than a 50-50 chance to win.
If you bet an underdog on the point spread, that isn't such a big deal to you. You're just hoping for the pick to at least keep it close and cover the number.
If you bet an underdog on the moneyline, though, you need them to win the game outright. When that happens, you get an outsized return on your bet. In that context, you should expect to lose more bets than you win.
Depending on the payout odds, you can still turn a profit by winning, say, 30 or 35 out of every 100 moneyline bets that you make on underdogs. However, you need to manage your bankroll carefully to weather what could be long losing streaks along the way.
Week 3 Betting Picks & Models
If you'd like to find your own trends and angles for NFL betting, check out our custom NFL betting trends tool.
If you'd like to see all of our model-based picks for NFL Week 3 (game winner, point spread, over/under, and moneyline value), you can visit our NFL picks page on TeamRankings.
And if you'd like to see a more curated list of betting picks that caught our attention, with the rationale behind each pick, check out our Staff Betting Picks.