Three Upset Picks To Consider For NFL Week 6 (2021)
We highlight three NFL Week 6 upset picks as potential value plays against the point spread or moneyline, based on various data angles.
October 13, 2021 - by Jason Lisk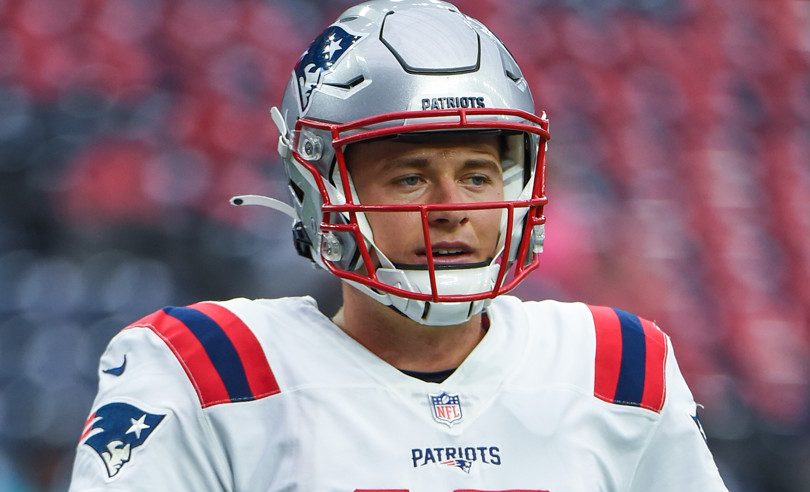 Mac Jones will try to beat 'dem Cowboys (Ken Murray/Icon Sportswire)
Here are three NFL Week 6 upset picks that piqued our interest based on one or more data-driven angles.
New England Patriots (vs. Dallas Cowboys)
Point Spread: +4.0
Moneyline: +165
If you just looked at last week's results, you would say that the Patriots have little chance to win this game. They struggled on the road at Houston before winning a close one, while Dallas won in blowout fashion over the Giants.
Dig a bit deeper though, and you'll see that Dallas benefited from some key in-game injuries for the Giants. RB Saquon Barkley left in the first half with an ankle injury, QB Daniel Jones suffered a concussion right before halftime, and WR Kenny Golladay missed the second half with a hyperextended knee. The score was 17-10 at the half, but Dallas pulled away with backup QB Mike Glennon in for the Giants.
This game also sets up as a Bill Belichick special. Dallas ranks second in the NFL in total yards and in rushing yards. The Patriots have yet to give up more than 381 total yards (to the Bucs). New England has rarely been a home underdog, and they are 4-2 SU and 5-1 ATS in that role in the last decade. Most of those situations have come in the last year, where they were 2-1 SU a year ago as a home dog, and in the only home dog spot this year, took Tampa Bay to the wire before missing a go-ahead field goal.
The public is heavily on the Cowboys (75% of spread pool picks are on Dallas so far), yet the line has held steady. Our ensemble forecast model also sees value on the Patriots and the money line in this one.
Detroit Lions (vs. Cincinnati Bengals)
Point Spread: +3.0
Moneyline: +155
Our top moneyline play of the week, according to our ensemble forecast model, is Detroit at home against the Bengals. The Lions are also a value based on our predictive power ratings.
Detroit may be 0-5, but they have been a plucky team. They've had a slew of injuries but still managed to be competitive. They've also landed on the unlucky end of two long field goals in close losses to the Ravens and Vikings.
Despite all the injuries, the Lions have also managed to gain more first downs than their opponents for the year, and more than each game opponent except for Green Bay in Week 2.
The Bengals, meanwhile, have been involved in close games all year. Four of their five games have been decided by a field goal, including two in overtime and one on the final play of regulation. Cincinnati has 18 fewer first downs than their opponents so far, and has yet to have a game this year where they gained more first downs than the opponent.
Cincinnati does have some big play capability, and Detroit has some big play surrendering capability with its current secondary issues, so that seems like the big risk here. Still, the 3-2 versus 0-5 records here appear to be masking what should be a closer contest.
The Lions just need to not let it come down to a 55-yard field goal.
Jacksonville Jaguars (vs. Miami Dolphins in London)
Point Spread: +3.5
Moneyline: +157
For our final intriguing upset pick, we'll go across the pond and go with another winless team in Jacksonville. Hopefully, at the end of this one, head coach Urban Meyer won't have a reason to hang out at a pub with dancing admirers.
Miami QB Tua Tagovailoa is expected to return this week, but even if that happens, there's the possibility that this offense is just not very good. (Tagovailoa has averaged 6.3 yards per attempt so far in his career.)
Here is how these two teams rank in some offensive categories:
Jacksonville obviously isn't great, but their running game looks like the Greatest Show on Turf next to Miami. RB James Robinson has averaged 105 yards per game the last three weeks, and the Jaguars are averaging 165.3 rushing yards per game over that span.
The one area where the Jaguars have failed is turnovers and missed field goals (and missed extra points). But they've shown more life recently, and seem to be developing an identity around using QB Trevor Lawrence in the running game along with Robinson.
Of course, the Jags are dealing with some serious coaching drama after coach Urban's antics, and the team will need to tune out that noise and perform. Still, it seems like a reasonable risk comparing to laying points on what has been a terrible Miami offense.
Year-To-Date Results
Through three weeks, our highlighted upset picks are 4-5 both against the spread and on the moneyline. Against the moneyline at time of publication, we are +2.3 units.
Importantly, comparing the moneylines of our highlighted picks on the date of publication to closing moneylines, seven games showed closing line value, one stayed the same, and only one had a worse moneyline by kickoff.
Upset Pick Expectations
It's important to understand the implications of betting on underdogs.
If you bet an underdog against the spread, you're hoping for the pick to at least keep it close and cover the number. To profit long-term, you need to win more than half of these bets (specifically, 52.4% of them at the typical -110 payout odds).
If you bet an underdog on the moneyline, though, you need them to win the game outright. When that happens, you get an outsized return on your bet. In that context, you should expect to lose significantly more bets than you win.
Depending on the payout odds, you can still turn a profit by winning, say, 30 or 35 out of 100 underdog moneyline bets. However, you need to manage your bankroll carefully to weather what could be long losing streaks along the way.
Week 6 Betting Picks & Models
If you'd like to research your own trends and angles for NFL betting, check out our Custom Trends Tool.
To see all our model-based picks for NFL Week 6 (game winner, point spread, over/under, and moneyline value), you can visit our NFL picks page on TeamRankings.
Related: NFL Week 5 Betting Recap