Prop Bets For Super Bowl LVII: 10 Best Chiefs vs. Eagles Props
Our best Super Bowl 57 prop bets for Chiefs vs. Eagles include over and under props on Jalen Hurts, INTs, pass and rush yards, TDs and more.
February 7, 2023 - by Jason Lisk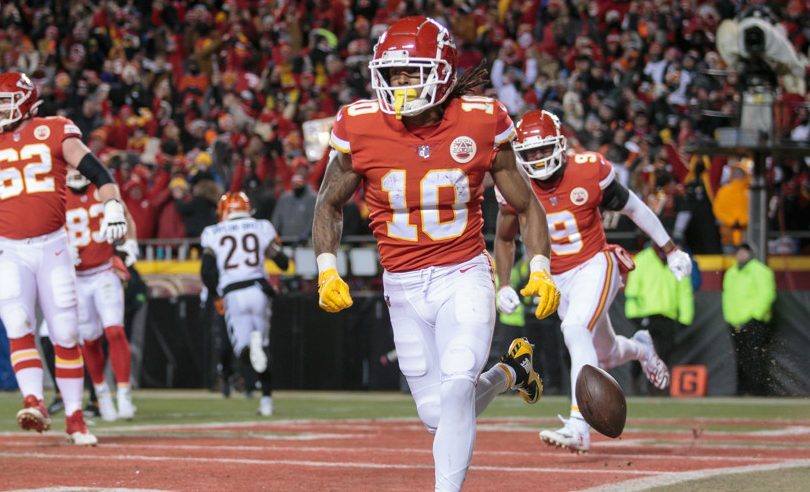 Isiah Pacheco knows that KC #10's have a history in the Super Bowl.
Here are ten of our best Super Bowl prop bets for Super Bowl LVII between the Kansas City Chiefs and Philadelphia Eagles.
Now that sports betting is widely legal across the USA, sportsbooks are offering thousands of Super Bowl props on everything from the length of the national anthem, to the coin toss, to TV commercials. However, we've focused our attention on those that involve game action.
With that said, we've also targeted some Super Bowl prop bets that we think offer both betting and entertainment value, with a range of bet types including both odds-based favorites and some longer shots.
Super Bowl Prop Bet Expectations
Just keep in mind that you not expect a prop with plus-money odds (i.e. an "underdog" bet), like this first Jalen Hurts prop below at +250 odds, to win.
The goal for plus-money bets it to hit enough of them over the long term, or at least over a portfolio of multiple plus-money bets, to turn a profit overall. Depending on how long the odds are, sometimes it only takes one or two hits to do that.
A sample size of the 10 bets below is still tiny and subject to high results variance, but our basic goal is to come out profitable overall across all ten bets.
(All betting lines are current as of publication time: Tuesday, Feb. 7 at 9am ET)
1. Jalen Hurts is Leading Rusher (Eagles) (+275)
This prop is currently available at PointsBet (Under "Rushing Props").
This is a prop play based on the spread and total and playing on the scenario that the Eagles could be in a closer game than they have been for most of the year.
Miles Sanders has the highest projected yardage total, and he has often racked up big yards in games where the Eagles are ahead by multiple scores in the second half.
But Jalen Hurts has carried the ball far more in close games, averaging over 15 attempts a game in those decided by one score, compared to 7.8 attempts in all other games. The only game where Hurts has had a low rushing attempt total in a close game was the season finale, his first game back from the shoulder injury.
Hurts was Philadelphia's leading rusher in four of the seven one-score games he played in.
So we'll play on a scenario where the Eagles continue to split carries more with Gainwell and Sanders (as they did in the first two playoff games) and where Hurts is going to run more in a "winner-take-all" game now that he is a month removed from returning from the shoulder injury.