Fantasy Running Backs and Preseason Team Win Totals
We take a look at whether you should be adjusting your rankings based on team quality, as measured by Vegas win totals.
May 14, 2021 - by Jason Lisk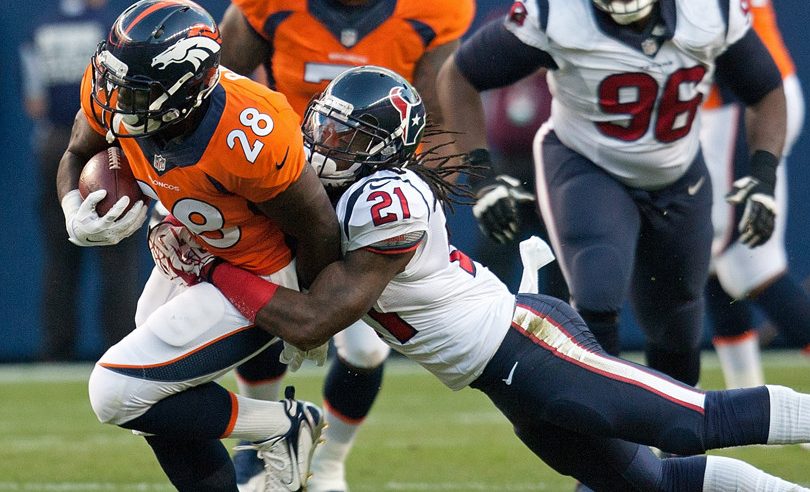 Montee Ball was once a First Round fantasy pick, and finished his career with 731 rushing yards
[Editor's Note: this article first appeared in August of 2020. At the bottom of this post, we have added an update to recount what happened in the 2020 season as well.]
Running backs score fantasy points when they score touchdowns, and get opportunities to gain more yards. Generally, better offenses allow for those opportunities. There is a line of thought that you should target running backs who play in better offenses, especially early in the draft. Does this hold up, though?
We looked through the last seven years, and here are our takeaways:
Downgrading running backs early in drafts (relative to their ADP) because they play on perceived worse teams is a bad idea
Similarly, upgrading running backs (relative to their ADP) because they play in elite offenses is not supported by the evidence
Among early draft picks (the top 24 or so running backs taken in a fantasy draft), running backs on "poor" teams or poor offenses from the previous year have busted less frequently and hit more frequently than other backs.
However, there is some evidence that your best chance of hitting big late in drafts and in fantasy football free agency is on other backs from elite teams and elite offenses, as well as receiving backs.
If you want to see the details that went into why we say this, you can read them below.
Running Backs and Preseason Win Total Expectation
To first look into this, we compared running backs by how many wins their team was expected to have in the upcoming season. We used the preseason betting win total, for running backs drafted among the Top 48 in each year from 2013 to 2019, based on average draft position data at Fantasy Calculator.
We are going to go divide running backs into four groups, based on draft position.
RB1 represents the Top 12 running backs by average draft position
RB2 means those with an average draft position between the 13th and 24th running back
RB3 means those with an average draft position between the 25th and 36th running back
RB4 means those with an average draft position between the 37th and 48th running back
Let's walk through each group of backs, sorted by preseason win expectation for their team.
RB1
This chart shows the percentage of running backs who achieved certain PPR fantasy scoring milestones. Any player who scored fewer than 140 fantasy points is classified as a "Bust." Any player scoring at least 240 fantasy points is classified as a "Boom," a milestone that eight running backs on average reached per year during this span. A running back scoring at least 190 fantasy points, but less than 240 PPR points, is "Good," something about 10 more running backs per year have reached. Finally, any running back between 140 and 189 PPR points is "Mediocre" in our chart. These backs were probably often in a fantasy lineup, but not always difference makers.
Here are the success rates for RB1, players generally drafted in the first or second round of fantasy drafts.
| Preseason Win Total | Number | AVG PPR PTS | Booms | Good | Mediocre | Bust |
| --- | --- | --- | --- | --- | --- | --- |
| 10 or more wins | 18 | 202.6 | 44% | 6% | 22% | 28% |
| 8.5 to 9.5 wins | 32 | 202.7 | 34% | 22% | 19% | 25% |
| 7.0 to 8.0 wins | 22 | 258.0 | 59% | 14% | 9% | 18% |
| 6.5 wins or below | 12 | 205.9 | 42% | 25% | 25% | 8% |
The bust rate is highest for the running backs on the "best" teams, and goes down from there. High-end running backs from great teams are very volatile. But the "boom" rate is about the same as the small group of backs from poor teams (projected to win 6.5 games or fewer). Top-end RBs on teams projected to win 8 or fewer games have significantly outperformed those on teams projected to win more than that.
Team Quality and Regression Factors
What could be going on here? One factor is that real life isn't as certain as we like to believe. The market may be overvaluing perceived team quality early in drafts, when regression factors pull the groups of teams closer together. If you take a running back from a team expected to be below average, and the offense breaks out, you could have serious upside (see Todd Gurley, 2017). Conversely, not all teams expected to be good on offense work out that way, quarterbacks get hurt and sink team chances, and so forth.
A related factor is taking risks on unproven players based on team situation. The 2013 Denver Broncos were the highest scoring team in this time period, scoring 606 points. The next year, with veteran Knowshon Moreno gone, second-year back Montee Ball was going 6th overall in fantasy drafts, despite little proven production. There's no way he would have been drafted that highly but for team situation. C.J. Anderson, though, finished as the highest scoring back on the team, and Montee Ball finished with 172 rushing yards.
RB2
Now, let's move the the RB2 tier of backs. These backs usually still require an investment between rounds 2 to 5 in a fantasy draft.
| Preseason Win Total | Number | AVG PPR PTS | Booms | Good | Mediocre | Bust |
| --- | --- | --- | --- | --- | --- | --- |
| 10 or more wins | 14 | 141.9 | 7% | 14% | 36% | 43% |
| 8.5 to 9.5 wins | 30 | 153.1 | 13% | 20% | 27% | 40% |
| 7 to 8 wins | 22 | 148.5 | 14% | 13% | 23% | 50% |
| 6.5 wins or below | 18 | 161.2 | 6% | 38% | 17% | 39% |
While the trends aren't quite as strong as with the RB1 group, we still see that the running backs on teams projected to win 8 or fewer games outperform their peers on teams expected to have winning records. Further, it is the bottom group of players (6.5 or fewer wins) that is the safest, has the highest average, and has the highest percentage of players who are at least "Good."
The boom rate drop-off going from RB1 to RB2 is also notable. 44% of all top 12 backs have finished with at least 240 fantasy points since 2013. That number dips to 10% for the RB2 group. The RB2 group is a lot closer to the RB3 and RB4 groups in terms of breakout booms to win your fantasy league, yet cost a lot more.
Again, a big factor here could be regression and the market expressing too much certainty over team quality, as well as valuing team situation over individual talent. The list of poor returns from taking guys on the best teams in this range include the following:
Shane Vereen (2013), Stevan Ridley (2014), and Sony Michel (2019), New England
Ty Montgomery, Green Bay (2017)
Damien Williams, Kansas City (2019)
Montee Ball, Denver (2013) (the year before he went 6th overall)
Thomas Rawls, Seattle (2016)
Steven Jackson, Atlanta (2013)
Pierre Thomas, New Orleans (2014)
RB3
Here's the RB3 tier, where we start to see lower end or inexperienced starters on real NFL teams, and the top end committee running backs show up. These backs are typically drafted between rounds 6 and 8 in a PPR draft.
| Preseason Win Total | Number | AVG PPR PTS | Booms | Good | Mediocre | Bust |
| --- | --- | --- | --- | --- | --- | --- |
| 10 or more wins | 15 | 146.0 | 7% | 13% | 27% | 53% |
| 8.5 to 9.5 wins | 26 | 120.9 | 0% | 19% | 23% | 58% |
| 7 to 8 wins | 30 | 138.2 | 7% | 20% | 26% | 47% |
| 6.5 wins or below | 13 | 126.1 | 0% | 8% | 46% | 46% |
At this range, we see the backs from top-end teams start to show up as better value. The bust rates are still pretty even, and the boom rates are small regardless of team quality.
It's also notable what kind of backs boomed from the top teams here. The three best seasons among teams projected for 10 or more wins were all last season: Austin Ekeler, Miles Sanders, and James White. All have a similar skill set as backs that provide a lot of value in the passing game. This observation is consistent with what Pat Kerrane of Establish the Run observed in his Zero RB articles, which we highlighted in a Fantasy Football IQ post.
RB4
The RB4 tier includes more committee backs as well as some higher-end backups. These backs are generally available after Round 9 in a 12-team draft. Booms are really rare. Busts are common.
| Preseason Win Total | Number | AVG PPR PTS | Booms | Good | Mediocre | Bust |
| --- | --- | --- | --- | --- | --- | --- |
| 10 or more wins | 25 | 112.1 | 4% | 12% | 20% | 64% |
| 8.5 to 9.5 wins | 26 | 106.2 | 4% | 15% | 8% | 73% |
| 7 to 8 wins | 18 | 117.1 | 0% | 22% | 22% | 56% |
| 6.5 wins or below | 15 | 128.8 | 0% | 20% | 20% | 60% |
The running backs from the teams expected to perform the worst had the highest average score, though the only two Booms above 240 points came from teams expected to have a winning record. Receiving backs again dominate the best outcomes here. Of the seven highest scores out of this range, one was LeGarrette Blount scoring 18 rushing touchdowns. The others were the receiving back in a perceived committee: Devonta Freeman, James White, Danny Woodhead, Fred Jackson, Duke Johnson, and David Johnson as a rookie.
RB5 and Beyond
Only 4 Booms have happened in the last seven years from running backs who were outside the Top 48 in ADP. Two of them were on teams that were projected for 10.5 or more wins (Alvin Kamara, 2017, and Knowshon Moreno, 2013). In total, only 12 backs drafted outside the Top 48 at RB have finished with 190 or more PPR points.
The average team win total for these later round breakouts was 8.6 wins. Six were from teams with a win total above 8 and the other six were from teams projected for 8 or fewer wins.
Here is a quick summary of some themes that have produced the biggest seasons for backs with such low preseason ADPs:
Starter injured/suspended/holding out (4): DeAngelo Williams and James Conner (Le'Veon Bell), Justin Forsett (Ray Rice), and Matt Asiata (Adrian Peterson).
Beat out (another) young guy expected to be main starter (4): Knowshon Moreno and C.J. Anderson (Montee Ball), Jordan Howard (Jeremy Langford), Philip Lindsay (Royce Freeman),
Rookie that impressed enough to get veteran traded/cut (2): Alvin Kamara (Adrian Peterson) and Nick Chubb (Carlos Hyde)
Detroit Once Had Two Top 20 RBs in the Same Season (1): Joique Bell (with Reggie Bush)
Bill Belichick (1): Dion Lewis (instead of Mike Gillislee)
2020 Results Addendum
In 2020, injuries wrecked the top of the fantasy football running back picks. Both Christian McCaffrey and Saquon Barkley got hurt early in the year. They, along with Joe Mixon, played in a combined 11 games in 2020, and all happened to be on teams with lower win totals, though their underperformance was entirely injury related. That tightened up the bust/mediocre rates with the top tier.
Still, the biggest disappointment (non-major injury category) was Clyde Edwards-Helaire, who rode extreme optimism about his role moving into the high-powered Chiefs offense to a 7th overall draft position despite never playing a down and not being a Top 10 NFL Draft pick. Edwards-Helaire and Alvin Kamara were the only Top 12 back in 2020 from the top tier of teams by win total, with Edwards-Helaire finishing in the Mediocre bin and Kamara as a Boom. The best results in 2020 came from backs on teams with win totals between 7 and 9.5, as Derrick Henry and Dalvin Cook both finished in the Top 3 in points.
For backs drafted outside the Top 12 at the position, Aaron Jones (RB13), Jonathan Taylor (RB22), and David Montgomery (RB24) were joined by rookie undrafted free agent James Robinson (outside Top 48) as the other Booms. Robinson came from a team with the lowest win total of the year and emerged after the unexpected release of Leonard Fournette late in the preseason. Meanwhile, the only back on a top tier team by win total being drafted as a RB2 was Mark Ingram, who was also a Bust, meaning that the RB2 types have now produced busts at a nearly 50% rate when coming from teams with win totals at 10.0 or more.