Fantasy Football Player Similarity Scores
As part of our Fantasy Football projections, we developed player similarity scores based age, team qualities, and stats from the previous year.
May 12, 2023 - by Jason Lisk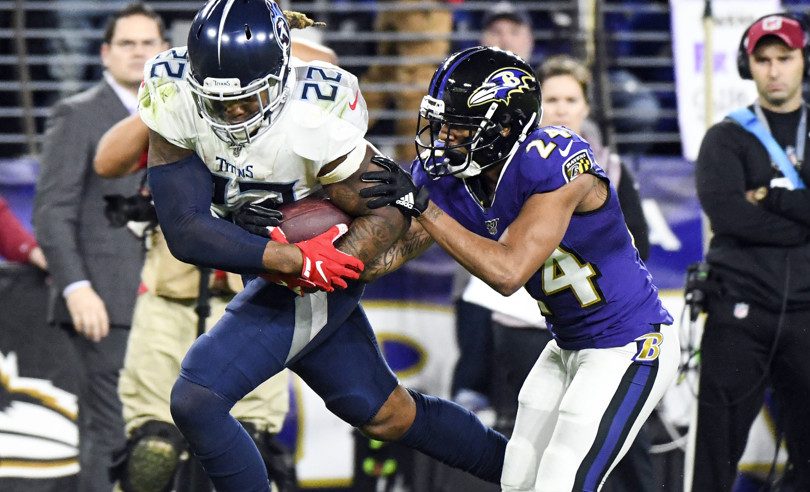 Derrick Henry, not similar in size or style to Marcus Peters (Photo by Mark Goldman/Icon Sportswire)
When projecting fantasy football stats, one of the things we consider is how similar players have performed in the past. That's why we developed a player similarity scores model, which helps us assess how players with similar statistical profiles in one season have done the following season.
Do running backs who rely on touchdowns regress more than those that get a lot of their production from receiving yards?
How do quarterbacks who rely on rushing production do the next year?
Do receivers who had a 1,000 yards on a poor passing team fare differently than those that had 1,000 yards on one of the top passing offenses, when we look a year later?
Answers to these types of questions may be revealed by looking at how players that put up similar stat lines did a year later. It's also a good exercise to ground your projections in the reality of what has happened in the recent past.
Nick Chubb's most similar players include running backs who carried the ball a lot and had fewer receptions, and were roughly the same age. His top five comparable are three Marshawn Lynch seasons at a similar age, and two Clinton Portis seasons, along with a season by Rudi Johnson, Doug Martin, Michael Turner, and his own 2021 season.
Aaron Rodgers' similar players are veteran star quarterbacks in their late 30's and early 40's, and include a lot of different Tom Brady seasons, Brett Favre seasons, and Matt Ryan, Philip Rivers, Ben Roethlisberger, and Eli Manning.
How those lists of similar players fared in their next season helps us understand how Chubb and Rodgers might perform in 2023. How we performed this similarity analysis, using several statistical categories, is outlined below.
Age, Draft Position, and Personal Characteristics in Player Similarity Scores
When creating similar player models, personal characteristics are important factors. Age is a big one, and most similar players should be very close in age to the subject player. Years of prior experience is also a factor, as rookies moving to their 2nd year may have a different growth curve than players in the league for three years already.
Draft position is another important variable. We used a draft value number based on Chase Stuart's Draft Value Chart to assess the similarity between two players. At a young age, quarterbacks drafted early in the first round are compared to other highly drafted quarterbacks. That's another way of saying that Gardner Minshew's comparable players (undrafted players and late round quarterbacks) should look different from Kyler Murray's (first overall pick in the 2019 NFL Draft).
But we didn't treat draft position equally for all players. Instead, it's weighted so that it is very important at younger ages, when we have few prior seasons to go on. But that importance decreases over time, and is a non-factor for players in their 30's.
Games played, which could be a proxy for a player being hurt part of the year, was also weighted so that the similar players should have played in roughly the same number of games as the subject player.
New for 2023, we also added fantasy football ADP values going all the way back to 2007, and so another of the "similarity" factors is that players are more likely to show up as similar if they were being drafted at about the same range in the fantasy football market.
Finally, we also included height and weight as factors at each position. This allows tall wide receivers to be distinguished from short ones, or big pounding backs from receiving backs, or quarterbacks to be compared to players of similar size.
Passing, Rushing, and Receiving Stats in Player Similarity Scores
We also used a variety of passing, rushing, and receiving stats in creating the player similarity scores. The specific weighting used for each depended on the position. Passing stats, for example, are important for quarterbacks but not particularly useful in identifying similar wide receivers. Here's a summary of the categories that were included in our player similarity scores.
Passing Stats
pass attempts
pass attempts per game played
completions
completion percentage
yards per attempt
touchdowns
interceptions
touchdown rate
interception rate
sack rate
Rushing and Receiving Stats
carries
yards per carry
rushing touchdowns
receptions
yards per reception
receiving touchdowns
Combined Stats
pass attempt to rush attempt ratio
carry to reception ratio
total fantasy points (PPR)
fantasy points per game (PPR)
One interesting observation, as we worked on the similar players model, was that weighting things like receptions and yards per catch more heavily, and receiving yards not at all, results in similar player lists that pass the eye test better than including all three categories equally.
Team Characteristics in Player Similarity Scores
We also included some categories related to overall team performance. This allowed some distinction in players based on the types of teams they were expected to be playing with. Running backs on teams expected to be near the bottom of the league in wins should have different comparables than those on top offenses, for example.
passing yards (team total)
rushing yards (team total)
pass completions (team total)
pass attempts (team total)
passing touchdowns (team total)
rushing touchdowns (team total)
preseason Vegas win total
Number of Comparable Players Used by Position
For those that are big into kickers in fantasy football, we regret to inform you that the 2023 version of our similar players model does not take into account kickers. This year, the kicker projections are entirely based on the team-level models.
For quarterbacks, running backs, wide receivers, and tight ends, though, we did create similar player projections based on 2022 stats for all players that met minimum cutoffs for number of passes, rushes, or receptions. We compared 2022 players to past seasons from 2003 to 2021 to find the most similar by stats, personal characteristics, and team characteristics. We then looked at how the most similar players did the following season.
For Quarterbacks and Tight Ends, we used the 12 most similar players, with the top 6 most similar seasons weighted most heavily.
For Running Backs and Wide Receivers, we used the 18 similar players, with the top 12 most similar seasons weighted most heavily.
What About Rookies?
Because our similarity scores this year were based entirely on the 2022 stats for players, you might wonder what we do about rookies. They have no 2022 stats, so how can we make a similarity-based projection?
For rookies that are in the realm of being drafted in fantasy this year, we looked at their draft status, personal characteristics (height/weight/age), team characteristics, and fantasy football average draft position (we used data from Fantasy Football Calculator for past seasons' ADP) to find similar past rookie seasons, and used those to make a projection.
Some non-rookies also did not meet statistical thresholds, but are considered draftable this year. Injured or suspended players like Odell Beckham and Calvin Ridley qualify here. There are also some young guys who did not play much in 2022 but are expected to move into starting or relevant contributing roles. For those cases, since there were only a few, we looked at it case-by-case. We tried to find examples of players in similar situations from the past, and made our best estimate.