2020 Fantasy Football Projections and Rankings Updates (Sept. 5)
September 5, 2020 - by Jason Lisk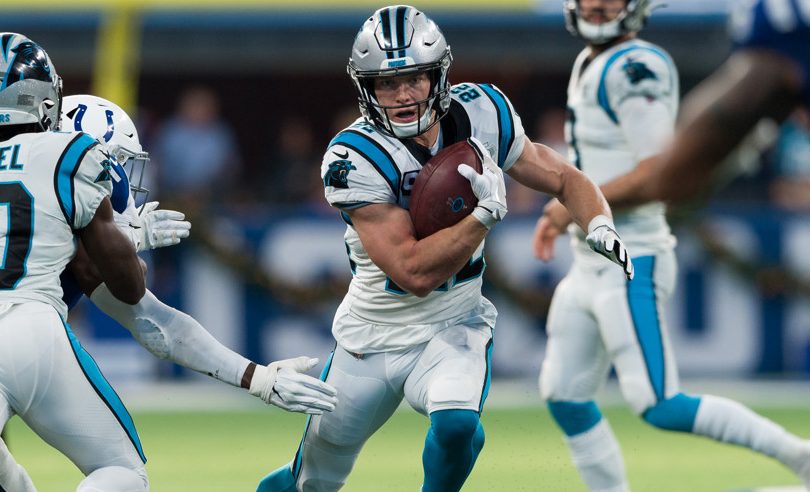 Christian McCaffrey is still number 1 in our rankings, but some others have changed (Photo by Zach Bolinger/Icon Sportswire)
This post will serve as a continuing resource with information about updates we make to our player projections and rankings. It will also provide some reasoning for why we made the change. Usually, when we make updates, it will be because of some player news. That could be injury, suspension, or in 2020, a player sitting out the season. For example, many of the notable player opt-outs caused us to shuffle some projections.
While we may change some other player roles, we will be updating here with only those that have reasonable fantasy impact. That means updating here if there is a change that impacts the Top 30 at quarterback or tight end, and Top 75 at running back or wide receiver.
Changes to Player Projections and Rankings
DeAndre Washington to be released, Darrell Williams and Darwin Thompson the Chiefs' backups at RB (9/5)
According to Field Yates, the Chiefs will release DeAndre Washington, making Darrell Williams and Darwin Thompson the backups behind rookie Clyde Edwards-Helaire. With the distribution of Washington's expected touches now among two backs, Williams goes from RB58 to RB54 in PPR leagues and is draft-able in most leagues, while Thompson jumps to RB72 and is at least someone to keep on the radar entering the year, playing in the Kansas City offense.
Mitch Trubisky to start for Bears, plus other QB battle adjustments (9/5)
With the news that Mitch Trubisky has been named starter, we adjusted the percentages allocated to Trubisky and Nick Foles, as we had Foles as a slight favorite to have more pass attempts. Now, Trubisky is assigned more yards, though we still anticipate both will start this year.
We also made slight adjustments to two rookie situations, with the word that veterans will be starting in Miami and the Chargers. These weren't exactly surprise announcements, but we did adjust the veterans, Ryan Fitzpatrick and Tyrod Taylor, up slightly. We still anticipate, based on the past history of first round quarterbacks taken in the Top Ten, that both Tua Tagovailoa and Justin Herbert will play close to half of the games this year.
Leonard Fournette signs with Tampa Bay (9/2)
Leonard Fournette will sign with Tampa Bay according to Adam Schefter. We have updated our rankings (though Fournette will not appear until he officially is added to the roster) to account for Fournette adding on. Our best guess is this: Fournette will be the lead half of a potential platoon with Ronald Jones. Rookie Ke'Shawn Vaughan has disappointed so far, and concern about the Bucs' depth also played into this position. Dare Ogunbawale appears to have a limited role as a third down back, and veteran LeSean McCoy could be in jeopardy unless he beats out Ogunbawale for third down duties.
With this, Ronald Jones drops down to around RB40 in PPR, and has a smaller fall to around RB33 in standard leagues (as he likely loses more receptions to both Fournette and the winner of the third down back competition). Fournette slots in at around RB21, with at least some upside to pay in a much better offense and take over a clear lead role, but also some risk that it takes a few weeks to work in or he is in a true platoon with Jones for rush attempts and goal line work.
Alvin Kamara potentially holding out (8/31)
Alvin Kamara has been missing practices and Adam Schefter is reporting that it is believed to be contract-related. Kamara is a free agent after the 2020 season. How should we handle such news? These reports of holdouts have a range of outcomes. Many resolve without any game absences for the player. But we've also seen some recent cases of running backs, going fairly high in fantasy drafts, missing significant time. Le'Veon Bell sat out an entire season. Melvin Gordon missed the first month of the 2019 season. So you will have to decide how much risk you want to take on. For now, we are lowering Kamara's projection slightly based on the existence of a chance he could miss games to force a contract extension.
He doesn't move much in PPR Rankings, but does fall from RB7 to RB12 in standard rankings. The bigger impact is on Latavius Murray, because just a slightly increased chance that he could see more work improves his value above other RB3/Flex options. The "other" back with Kamara in the Saints offense has averaged over 1,000 yards from scrimmage and 8 touchdowns scored the last three years.
Leonard Fournette released by Jacksonville (8/31)
The Jacksonville Jaguars released Fournette on August 31st. This throws the entire Jacksonville backfield into a shakeup, and puts Fournette's status in question. Fournette will no longer appear in our projections until/if he signs with a team, so if you are drafting before that happens, you need to treat him like a platoon/second running back. Injuries for other teams may pop up making him more likely to sign after the season begins and making his contract non-guaranteed.
As for Jacksonville, it will be some combination of second-year running backs Ryquell Armstead and Devine Ozigbo, and pass-catching back Chris Thompson. Chris Thompson is the safest projection as a guy that will average about 4 catches and 4-5 rush attempts a game. Armstead and Ozigbo combined for 44 rush attempts, 135 rushing yards, and no touchdowns as rookies. For now, we are projecting Armstead with a slightly higher share of the running back load. Armstead is about RB41 in both standard and PPR. Thompson moves into the RB45 range in PPR leagues, and Ozigbo is worth a late flier in bigger leagues as well, in the early 60's in the RB rankings.
We also adjusted the Jacksonville team projection slightly, reducing the rush attempts slightly, and bumping up passing to now nearly 600 pass attempts.
Jalen Reagor's torn labrum (8/30)
Philadelphia's first round pick, Jalen Reagor, suffered a torn labrum and is expected to miss four weeks, which would put him out for about 2-3 games to start the season. That injury throws an already uncertain Philadelphia receiving situation into more of it. Reagor was projected as the top receiver for the team. Though he is still projected as the WR1 based on points per game, we did adjust his percentage of production down for a 3-game absence. DeSean Jackson is now projected to have the most fantasy points. Further, with Alshon Jeffery expected to miss at least most of September, there is an opportunity for Greg Ward, J.J. Arcega-Whiteside, and others to contribute. We shifted some of Reagor's stats due to the missed games to Ward, Arcega-Whiteside, and also gave a slight bump to tight end Dallas Goedert, who is an early value pickup and will likely be more heavily involved with receiver injuries again being an issue in Philly.
D'Andre Swift missing practice time (8/30)
Detroit rookie D'Andre Swift has continued to miss practice time, and as a result we've closed the gap between Swift and third-year back Kerryon Johnson and project more of a platoon early, with the possibility that Johnson could start the year atop the depth chart because Swift has not been able to get much preseason work.
David Montgomery's groin injury (8/27)
Bears running back David Montgomery suffered a groin injury on Wednesday, August 26th. He will reportedly miss 2-4 weeks with the injury. That puts him being ready to play in Week 1 very much in doubt. As a result, we've reduced Montgomery's projected stats by another 10% with the risk of missing at least one game, and perhaps being limited initially, based on the average of that recovery time line.
There's also the possibility that the Bears sign a running back, such as Devonta Freeman, who's still available. For now, those additional stats from Montgomery were distributed between backup running back Ryan Nall, multi-tool threat Cordarrelle Patterson, and receiving back Tarik Cohen. Montgomery has dropped from RB22 to RB26 in standard leagues, and RB24 to RB33 in RB PPR Rankings.
Cohen stayed roughly in the same range in both sets of rankings, as he would likely see only a small uptick in rushing attempts if Montgomery missed 1-2 games. Nall and Patterson (who is usually eligible as a WR) both bumped up slightly, though both are still outside the Top 75 at their position, and still likely not draft able, though they could be emergency Week 1 starters if needed.
Mike Williams' shoulder injury, and Joshua Kelley emerges (8/27)
Chargers WR Mike Williams has a shoulder injury that could keep him out 2-4 weeks, putting his status for the start of the season very much in doubt. We already had some red flags on Williams, because of the change in offense in Los Angeles going to Tyrod Taylor or rookie Justin Herbert at QB. Downgrading his receiving stats slightly due to the injury, Williams falls from WR52 to WR60. That makes him questionable to draft if you are not in a deep league where you can afford to stash injured players. Meanwhile, we moved WR Jalen Guyton into the 3rd WR role, with the potential to be the starter opposite Keenan Allen, if Williams misses games. Both Guyton and Allen got slight bumps to their stats on the possibility of Williams missing games.
In other Chargers news, rookie running back Joshua Kelley has been getting positive reviews and getting some reps with the first team offense along with Austin Ekeler. The Chargers profile as a team that will run more this year due to the QB change from Philip Rivers, but there was a question who the second back would be behind Ekeler. We had already previously projected Kelley slightly higher than Justin Jackson for that RB2 role, with Kelley previously at RB55 and Jackson at RB62. Because of the positive reviews coming out of camp and word that he is getting some reps with the starters, we are further bumping up the gap and shifting more of Jackson's production to Kelley, and making a stronger call that Kelley is the RB2 in the offense. As a result, Kelley moves to RB45 in our RB Rankings and Jackson drops to RB71. That makes Kelley someone to watch and worthy of being drafted later in fantasy drafts.
Logan Thomas Emerges at TE (8/27)
Former QB Logan Thomas is drawing rave reviews in Washington. Given the lack of clear options in Washington, we are moving Thomas ahead of Jeremy Sprinkle in the depth chart in Washington. That moves Thomas to TE25 in our rankings, which at least makes him in consideration as a final round flyer in 12-14 team fantasy leagues.
Jets' WR Injury Concerns (8/27)
Jets' rookie WR Denzel Mims has yet to participate in practices, and projected starter Breshad Perriman has had a sore knee. The team signed veteran Chris Hogan recently. As a result, we have shifted some receiving production from Mims and Perriman, and moved Hogan into the 4th WR role and bumped the volume of that slot a bit in case Hogan has to start a game or two. Some receiving volume was also moved to tight end Chris Herndon, who would have a higher chance of passing volume if the team was limited at the receiving position early in the season.
Tyrell Williams has a torn labrum (8/25)
Tyrell Williams of the Raiders has a torn labrum that he will reportedly try to play through this year. But that injury to the veteran muddles an already unclear picture with the Raiders' receiving group. We are dropping Williams, and bumping rookie Bryan Edwards and veteran Nelson Agholor up the depth chart for now. This probably doesn't affect whether you draft any of them in all but the deepest leagues, but Edwards for now is inside the Top 75 in our WR rankings.
Benny Snell looking like the first rushing option behind Conner, and Chase Claypool playing well (8/25)
According to Mark Kaboly of The Athletic, Benny Snell has looked good among the backups behind running back James Conner. As a result, we've adjusted the depth chart in Pittsburgh, bumping him slightly ahead of rookie Anthony McFarland, though both would likely see action with a Conner injury. Jaylen Samuels moves further down the projected depth chart.
Meanwhile, second-round pick rookie Chase Claypool has been impressing. We are leaving him as the 4th WR projected but did increase his production estimate slightly, at the expense of James Washington and Diontae Johnson, who has missed training camp time with a leg injury.
Darrel Williams is second in line with Chiefs' running backs (8/25)
A report from The Athletic noted that it was third-year back Darrrel Williams who was running as the next option behind rookie Clyde Edwards-Helaire. As a result, we've updated our Chiefs' depth chart at the position to move Williams into the second spot, ahead of DeAndre Washington and Darwin Thompson.
Cam Newton Takes Control as Jarrett Stidham Struggles
We already had Cam Newton as the favorite to win the Patriots' starting QB job after his signing. But because of his injury history and the presence of second-year quarterback Jarrett Stidham, who the team seemed willing to start if necessary, the projection split was closer to 80%/20% in favor of Newton in our initial release.
With recent reports of how badly Stidham is struggling (7 interceptions thrown in three days of practice) while Newton is picking up the offense and taking a leadership role, we are now adjusting Newton's usage percentage at quarterback up to about 90% of passing stats. He is now projected as the starter, albeit one with a recent injury history (so he's not getting the same share as some other franchise starters).
With that increase in his projection, Newton climbs from QB23, to QB11 on the basis of being a safer pick to be the starter in New England.
Washington releasing Derrius Guice
On August 7, news broke that Derrius Guice was being charged with domestic violence, stemming from an incident where he allegedly choked his girlfriend unconscious. Within hours, the Washington Football Team announced they had released Guice.
Guice was the running back with the highest point projection on the team. We projected Guice for 152 fantasy points in PPR before his release. That put him at RB31, which was roughly in line with his average draft position.
That many touches and potential points going away caused us to make a big shift in the Washington projections. Previously, rookie Antonio Gibson, and Adrian Peterson were the RB2 and RB3 for the team (also in line with how average draft position had the position depth chart). With Guice's release, both moved up. Bryce Love, who missed all of last year still recovering from a knee injury, moved into the projected depth chart.
Guice isn't the kind of talent that should shift our team scoring projection. However, stylistically, we moved Washington up slightly in pass attempts (+20) and down slightly in rush attempts (-20) because Gibson moving up and Love moving in should result in more passing to backs. Our general approach was to split some of Guice's carries off to Gibson, who was already projected to have high receiving usage. The remaining rushing load (originally between Guice and Peterson) was divided between Peterson and Love. Here were the net effects in rankings:
Love made an immediate jump up to RB61 in PPR and potentially draft-worthy in larger leagues
Peterson went from from RB61 to RB46 in PPR with the increase in rushing share
Gibson moved from RB41 to RB26 in PPR
We were already above market on Gibson based on his rookie similarity projection. We can assess whether these adjustments are reasonable as the market responds, but that can take time. For now, this is our instant adjustment for the Washington backfield.
Damien Williams (Kansas City) Opting Out
Damien Williams of the Kansas City Chiefs was expected to still be part of a platoon with rookie Clyde Edwards-Helaire. Williams was projected for 145 PPR points, and RB35 in our early rankings prior to that decision. We initially projected Edwards-Helaire for 209 PPR points, and he was ranked RB14. DeAndre Washington, who signed with Kansas City from the Raiders, was our projected RB3 for the team. So with Williams' decision, Washington moved into the RB2 role, and Darwin Thompson moved into the RB3 role previously occupied by Washington.
But we aren't projecting Washington to get all of Williams' 145 points. We shifted some toward Edwards-Helaire seeing an even greater workload without competition from Williams. Washington is projected for 118 PPR points, good for RB52 now. Edwards moved up to RB8 and a potential first-round pick with the bump in stats. Thompson is now at RB85.
Allen Hurns and Albert Wilson (Miami) Opting Out
Both Allen Hurns and Albert Wilson opted out of the 2020 season. The two veterans were likely to be in the mix as the immediate backups and players who would get on the field in three-wide-receiver sets, behind DeVante Parker and Preston Williams.
While neither was ranked inside the top 75 in our WR PPR Rankings, the shift still has some fantasy impact. It's not real clear who will emerge as the third wide receiver, so we currently have second-year player Gary Jennings, Jr. and return specialist Jakeem Grant moving into those roles. However, we did also shift some of the projected yards away from the third and fourth receiver slots. With less depth behind them, starting tight end Mike Gesicki and Williams look like a little safer bets to see some more targets in the offense. Both moved up slightly in our rankings. Williams went from WR46 to WR38 as a result of these moves, and Gesicki from TE12 to TE8.
Devin Funchess (Green Bay) Opting Out
Devin Funchess was in competition for either the 2nd or 3rd WR role with Green Bay, along with Allen Lazard and Marquez Valdes-Scantling. Because of the uncertainty over who would emerge, we had all three projected closely together (and all outside the Top 75 at WR). With Funchess' decision, we moved Jake Kumerow into the WR4 role for Green Bay. We also shifted some of the WR4 stats to both Lazard and Valdes-Scantling, as each of their paths to being a starter improved a bit.
As a result, Valdes-Scantling is now overall WR73 in our projections and Lazard is WR78. If news comes out about who is likely to be the starter, we will further adjust those two.
New England Defensive Opt-Outs
Two defensive starters for the Patriots, linebacker Dont'a Hightower and defensive back Patrick Chung opted out, adding to the turnover on the defensive side of the ball. Hightower is a particularly big loss as the team's best linebacker. It's hard to doubt Bill Belichick too much, but we did make some slight adjustments to New England, increasing their Points Allowed per game by 0.8 points and reducing their interceptions and sacks slightly.
New England was the top-scoring fantasy defense last year. It's hard to know the impact, and defensive fantasy production is volatile anyway. This is one where we will monitor the market and perhaps make additional adjustments later in the month, so as not to take a particularly strong stand on the Patriots' defense with all the uncertainty.