Week 2 Fantasy Football Waiver Wire Pickups
September 16, 2020 - by Jason Lisk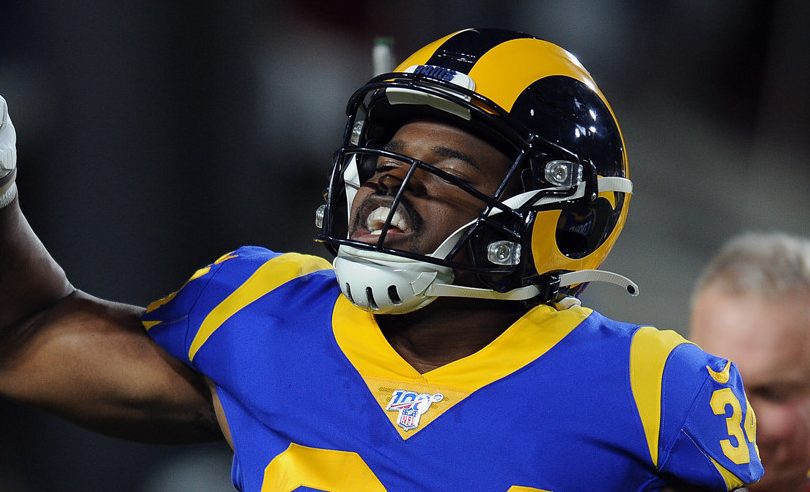 Malcolm Brown got off to a big start in Week 1 scoring two touchdowns for the Rams (Photo by John Cordes/Icon Sportswire)
Week 2 is here, and some injuries have already hit some teams at key positions. Here is a rundown of our top waiver wire recommendations for the week. You can read below for why we have each player on our list.
RB Malcolm Brown, Los Angeles Rams
RB Nyheim Hines, Indianapolis
TE Dallas Goedert, Philadelphia
RB Benny Snell, Pittsburgh
WR Tre'Quan Smith, New Orleans
WR Parris Campbell, Indianapolis
RB Joshua Kelley, Los Angeles Chargers
RB Myles Gaskin, Miami
WR Laviska Shenault, Jacksonville
TE Logan Thomas, Washington
Others to consider: RB Frank Gore and RB Josh Adams, New York Jets (Le'Veon Bell out); RB Adrian Peterson, Detroit; RB Peyton Barber, Washington; WR Marquez Valdes-Scantling, Green Bay; WR Russell Gage, Atlanta
Malcolm Brown
Brown, who has never had more than 300 yards from scrimmage in a season, playing as Gurley's backup for the last several years, got an opportunity in Week 1 because of Darrell Henderson's injuries in camp, and rookie Cam Akers getting a crash course in the offense. And he made the most of it. Brown rushed for 79 yards on 18 carries (compared to 14 for 39 for Akers), and also got two red zone touchdown runs. It wouldn't be out of the question for Brown to carve out a bigger role in this ambiguous situation, and he's at least earned a prolonged chance. If he's getting red zone carries in this offense, he has RB2/Flex value.
Nyheim Hines
Hines was already a great value in PPR leagues, and we had him at 39th in our RB PPR preseason projections. That was before Marlon Mack's season-ending injury, and he's now a great Flex start in PPR formats, probably bumping above Brown in that scoring format especially if you need more certain and consistent production. Philip Rivers loves to throw to backs, and does so in the red zone, as we saw on Sunday. Hines could go for 70+ catches this year, even with Johnathan Taylor also starring in the Colts' backfield.
Dallas Goedert
Goedert may not be available depending on your league size and depth at tight end. But if he is, you should snag him. He showcased why he was on our sleeper target list in the preseason. Goedert resoundingly outperformed Zach Ertz in week 1 with 8 catches for 101 yards, continuing his production from the end of last year and in the playoffs. He is the future at tight end in Philadelphia, and there is enough of an opening that he could also be the present.
Benny Snell
Snell took over for an injured James Conner early in Week 1, and showcased his skill as a power runner. The only blemish was a fumble (which his team recovered). But if Conner is out, Snell immediately becomes a weekly top 15 option, because Pittsburgh likes to feature one back. He's only ranked lower than Brown here because his longer term chance of maintaining the lead role isn't as high, and we don't even know if Conner will officially miss any more games yet. Early comments indicate that Conner will at least have a chance to play in Week 2, but it's up in the air. If you hear news that Conner is out multiple weeks, that opens the door for Snell to take the job … and potentially even hold on to a bigger role in the offense if he plays well.
Tre'Quan Smith
With the news that Michael Thomas could miss multiple weeks, Tre'Quan Smith could see an uptick in performance in the Saints' offense. It's easy to write off Smith, who has been inconsistent. But he's still only in his third year, and this is an opportunity to break out. He's already had two 100-yard games in his career, so the upside is there, and there are now a lot of targets open in New Orleans if Thomas misses multiple games.
Parris Campbell
Who will emerge in Indianapolis at WR? Based on Week 1, Campbell looks like a breakout candidate. He was targeted 9 times by Rivers, catching 6 passes for 71 yards. Playing out of the slot, he should consistently get enough targets to justify consideration as a WR3.
Joshua Kelley
Kelley was in our preseason rankings at No. 44, as the more likely best backup/potential goal line work option behind Austin Ekeler in Los Angeles. Nothing he did in Game 1 altered that view. Veteran Justin Jackson got a couple of carries before Kelley, but got injured. From late in the second quarter on, Kelley rushed 12 times for 60 yards, and a touchdown. You can probably expect a workload in that range going forward in what should be a more run-heavy offense. We have him a little lower this week, just because of matchup if you need a spot start, because going with the second back against a Chiefs offense that tends to put opponents in passing game scripts is not as desirable.
Myles Gaskin
While veterans Matt Breida and Jordan Howard were drawing all the preseason attention as a likely committee, it was actually second-year back Myles Gaskin who ended up getting as many touches as Howard and Breida combined (and all the passing targets). Howard started the game, but after struggling to gain any yards, was not used again until he was given 3 carries from the 1-yard line to score in the 4th quarter.
Gaskin was then used more than Breida, and ended up with 66 total yards on 9 carries and 4 receptions. This could just be a messy situation all year, but if Gaskin can continue to outperform the other two, there is an opportunity for value when the schedule opens up.
Laviska Shenault
Shenault flashed some potential in Week 1 as a multi-purpose weapon along the lines of a (healthy) Deebo Samuel. He ran the ball a couple of times and caught a touchdown pass. The Jaguars only threw 20 pass attempts, but that will be higher in plenty of future weeks when they play from behind, so his volume should see an uptick.
Logan Thomas
If you are looking for a deeper sleeper to salvage your tight end position, give Thomas a shot. The converted quarterback has been drawing rave reviews in the preseason camps, and came out to score a touchdown, get targeted 8 times, and catch 4 passes in Week 1.